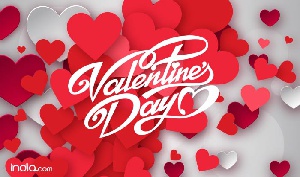 It is 14th of February, 2018 and the day for the annual celebration of love is here once again. There will be so much fun and enjoyment as so many people will find different ways of expressing love to their loved ones.
Of course, love is a continuous process and it would be an error for one to wait for a particular day of the year before he/she expresses this very powerful emotion called love. However, my worry is with those who think that they need to be treated very well by others in order for them to feel loved.

The gospel of self-love is often thrown down the gutters whiles we embrace the decision to place our happiness in the hands of a significant other.

That decision in itself is a wonderful practice but what if that significant other for one reason or the other fails us? What do we do?

In reality, we must understand that all humans are alike with respect to the susceptibility of making errors. Therefore, we must not expect too much from mortals. Show me an individual who goes about expecting a lot from people and I will show you someone who always gets disappointment as his/her companion. The hard truth is that people change and the earlier we get used to that, the better it will be for us all.
As defined by the World Health Organisation in 1948, health is "a state of complete physical, mental and social well-being and not merely the absence of disease or infirmity".

Touching on the mental component of health, Wikipedia defines it as "the psychological state of someone who is functioning at a satisfactory level of emotional and behavioural adjustment". Studies in special education view emotions as the inner feelings that are experienced in a person.

In our pursuit of love, we must not forget that we cannot give out what we do not have. We have to consciously put in the efforts to develop a high sense of appreciation of who we are. This way, we can easily give out and receive love but if we fail to do so, we place our emotions at the beck and call of others.

The love of self is a gospel which needs to be echoed over and over again. A lack of it breeds low self-esteem and an inability to connect with others properly so as we go about our Valentine's Day celebration, let us not forget to also love and celebrate ourselves.