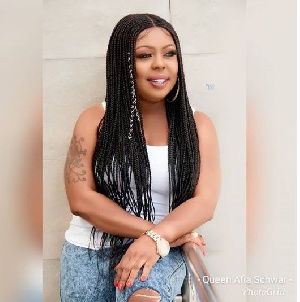 Afia Schwarzenegger's insanity is at its beta stage, I can confidently and contemptuously confirm.
That thing called Afia Schwarzenegger was in the news last week—for insulting another man of God and for dishing out a distasteful blowjob lesson, holding a piece of banana and sliding it in and out of that her gutter-like mouth, on social media.

Why would a mother of two, abundantly aware that her boys are not blind and have full access to the internet engage in such unending disgraceful enterprises on social media if not for insanity?
We do not take cases of mental health disorder seriously in Ghana, even if the symptoms are glaring such as what Afia Schwarzenegger has for many years been showing us. She has inaudibly but raucously been telling us that she needs help.