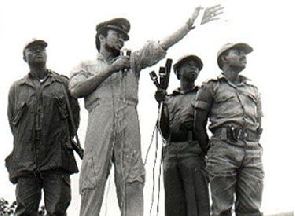 The apologists of the June 4th rebellion will be out in full force today, touting the benefits of that day 38 years ago. They will talk of how it established probity and accountability. We will be told that it laid the foundations of the democracy we are enjoying today. We should subject that to scrutiny.
Let me set the table first. After years of struggle, the SMC that replaced the NRC had been forced by civil democratic forces led by the Peoples Movement for Freedom and Justice, Association of Recognized Professional Bodies and students to accept elections. Parties had been formed and campaigns were in full swing when June 4th occurred. June 4th DID not bring democracy. That fight was won before June 4th.

Here are the highlights:

8 senior officers, including 3 former heads of state were executed without trials.

Many military officers and civilians were given midnight, kangaroo trials and given lengthy sentences.
Many businesses and properties were confiscated from their owners.

Military officers and members went around administering instant justice which included whippings and detentions.

You get the idea.

For practical purposes, I make no distinctions between June 4th and 31st December. June 4th begat 31st December, they were led by the same man, and they committed the same atrocities.
Now to my questions:

Did June 4th and 31st December establish probity and accountability?

No, they did not and here is why.

First, the leaders of the revolution indemnified themselves in the 1992 constitution. Indemnification is contrary to the spirit of accountability.
Second, the protagonists of June 4th presided over the Mabey and Johnson corruption scandal in which the company admitted, in British court, to paying bribes to high government officials to secure contracts. The named officials were exonerated by the Rawlings government. They was a similar incident in Sweden.

Third, under the same man, state-owned enterprises were auctioned off at "donkomi" prices to members and cronies of the government, including the first lady. Fourth, General Abacha, perhaps Nigeria's most corrupt leader paid Mr. Rawlings 5 million USD under circumstances that would have sent many to firing squads under the AFRC. I know that Mr. Rawlings admitted to receiving only 2 million USD but that does not change the principle. The AFRC/PNDC, despite all the pious postering, was corrupt to its core!

Second, did they restore democracy? Of course not. If they did, the students of Ghana would not have marched. Sam Okudzeto, Dr. Bilson and Lawyer Obeng Manu would not have been jailed; Tommy Thompson and Kyeremeh Djan would not have died and others, including me would not have been exiled.

The third thing is the contribution of June 4th to vigilantism and what Chairman Rawlings once called proudly, "the democratization of violence". Now, I know that vigilantism existed long before June 4th. It was at the heart of the CPP-UP disorders before independence.
But no single event did more to entrench violence in our society than June 4th, 31st December and the NDC. Last week, when ASIEDU Nketiah confidently blamed the NPP government for the death of Captain Mahama without pushback, I knew that spin had joined the infamous legacies of the June 4th/31st December actions. Consistent with this belief that repeated lies become accepted truths, Chairman Rawlings emerges periodically to lecture Ghana about probity and accountability and corruption and to damn the corruption since he left office.

Despite the reconciliation initiated by President Kufuor, the leader of June 4th has never apologized for the pain caused by June 4th and 31st December, let alone ask for forgiveness. Instead, he and his June 4th/31st December henchmen continue to spew the language of grievance.

Unfortunately, these days, many of those wronged by June 4th have made their "devil's peace" with the revolutionaries and do not challenge the lies anymore.

While our opinions can change, truth must be eternal. June 4th harmed Ghana and one of its most dangerous legacies is the entrenchment of mob violence. Let us bear witness to the destructive legacies of June 4th. As Santayana and others have said, "Those who ignore history are condemned to repeat its tragedies".