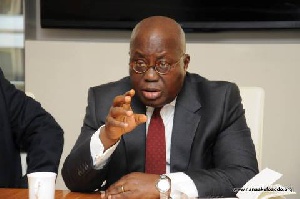 Justice Abeeku Newton-Offei
At any point in history, men/women emerge to write their names in record books either for the good or bad. These people come from diverse backgrounds with different upbringing and in diverse enviroments.

They grow up with different expectations in life which are often shaped by close family influences and society at large. Aside intrinsic talents which are God-given, are the ones motivated by vision of their parents.

For example, we all had various life ambitions by way of academic/professional laurels. Our parents/guardians, on the other-hand, either had something different or were in support of what we wanted to be in future. These ambitions either come to pass, or, we end up diverting in various fields of human-endeavor due to many factors, some of which could be financial, loss of interest or lack of capacity/will-power to stay focused.

And when success finally comes our way, the usual notion has been that, let me concentrate on my private affair by taking care of my nuclear family and careless about the larger world.

In history, there have been many great people who could have made significant imprint on the conscience of humanity by standing up against evil in society, but unfortunate decided to remain in their comfort zones, focused on their personal business and never bothered to be bothered by issues involving anything which had to do outside the domain of their inner perimeters.

Such people have often died and carried with them into the other world, lasting legacies which they could have left behind for generations to learn from. Others who have often decided to stay aloof when things are going wrong, and evil is brazenly thriving, have ended up being caught in the wind of disasters such evil people create.

This is why, as humans, it is incumbent on us, to at any point in time, stop being abject cowards and obscene cohunes. The attitude of sitting on the fence has always yielded destruction while participatory spirit and being forthright always pays off.
But admittedly, it is not every person that is imbibed with the spirit of boldness, service, selflessness and dedication. Indeed, such characters are very rare in our part of the world, in general, and in Ghana particularly, due to the system of patronage being practiced in every aspect of human-edeavour.to survive in our enviromernt,one must be crafty, a liar and often corrupt. We have decided to create for ourselves, a society where truth, fairness and incorruptibility have become extremely scarce commodities.

Lies, cheating and corruption have rather been help up high as the norm.

Doing what is right in our society has now become extremely fashionable and highly rewarding.

People who, under normal circumstances should stand for what is right, have decided to sell their conscience on the altar of bribery and corruption for selfish gains. Plain thieves who, by our Ghanaian societal norms, should be scorned, are rather held in high esteem and offered the choicest seats at both in churches and public functions.

In view of this, resources which must be put to good use to benefit the masses, are ending up in private pockets of infinitesimal greedy bunch whose main agenda in life is to pile-up ill-wealth, while the masses wallow in abject poverty.

The president Ghanaians haven't had. It is in the light of this, that, I have always maintained that, indeed, Nana Addo Dankwa Akufo-Addo is unquestionably the most capable president the good people of our country have not yet had the opportunity to have.

In total, I have known the man for close to 20years, but have closely associated with him for the past 10years.Indeed, to talk about his life history is not something I am even qualified to do. The man's record in both public and private life is an obvious open-book which anybody who really cares to know would not encounter any hindrance.
His adversaries have, over the years, tried without success, to throw mud at him for no just cause. He has been tagged with all kinds of unfounded allegations, and spoken about with venomous vituperation by his avid adversaries.

But in spite of all this, his track-record of laying down his life to fight for the right of the masses by ensuring there is equity, justice and fairness in our society, is an indelible mark which no amount of malicious vilification has been able to erode.

As a person, Nana Addo is genuinely passionate about seeing Ghana progress, and for Ghanaians to prosper, by putting our resources to good use and ensuring equitable distribution of wealth created thereof. He is excessively selfless, amazingly caring and matchlessly kind-hearted. Greed is completely alien in his genes, and he hates to see people having worries on their minds. Being in his company is always an indescribable delight because he makes you feel treasured, wanted and respected.

Working into his office

Being an Aide to the man, I have the opportunity to pay him visits to discuss matters bordering on the party's electoral fortunes and other related matters. Each time I walk into his office, he welcomes me with the characteristic broad smiles while calling me by the name. He will often get up from his seat, give me a welcome handshake, ask of my welfare and usher me to a chair. Nana Addo actually calls me "Newton; my good friend".

Now, this is a potential president but because of his amazing sense of humanity and respect for those around him, he treats us with utmost treasure. This character of the man does not end with those close to him.as a matter of fact, anybody who does not work close with him but ever gets the opportunity to personally interact with him will attest to this.

Now, on a number of occasions, I have led some party people wishing to meet Nana Addo, to meet him at his office. And whenever I take them there, Nana Addo will ask of their names, what they do and where they live, and record it in his diary.so one day, I a party member wanted to see Nana Addo and contacted me to facilitate it.
I did what I could, and on the day we were going to meet Nana Addo, I told the man that, after we have met him, he[nana] will ask of his name and write it in a diary; and the man was like "will he have time for that after I have personally interested with him"? And I said just smiled.in the end, we met Nana Addo, and what I told the man was exactly what happened; and he simply could not believe why the man pays so much time for people.

On the campaign train

When on campaign tour with Nana Addo Dankwa Akufo-Addo, he will, at specific times, send for you and personally find out how you're doing.

At a rally at Wassa Akropong,during our recent visit to the western region, I was standing somewhere in the crowd away from the platform, when one of my colleagues came and told me Nana wanted to see me.

Initially, I thought he wanted me to address the people because I'm a Fante. I waded through the thick crowd, got to him, and he said "Newton, please see me before we take off to the next destination"; and I said "I hear you, Nana". And because the crowd was so thick and I didn't want to be pushed and shoved after the rally, I went straight to his car and waited.

When the rally was over and was ushered to his car, he signaled me to his window, and amidst the huge crowd, drumming, blurring vuvuzelas and total euphoric atmosphere, asked "NEWTON, I HOPE YOU'RE FINE"; I responded in the affirmative and thanked him; he said "EXCELLENT", and we set-off for the next destination. And I went to sit in my car wondering how the man could be so caring.

He treasures people
As a matter of fact, sometimes when we are about to set-off from his Nima residence on a campaign tour, Nana Addo Dankwa Akufo-Addo will call each member of the team to his office, and privately interact with him/her to find out how you're doing.

Indeed, being around the man is just like being under the care of a caring father. Nana Addo Dankwa Akufo-Addo never treats people around him as workers; he rather treats us as working WITH, and not FOR him. He respects human-beings, and is neither greedy nor selfish.

But there's one thing about the man which always scares me: he never gets tired on the job and therefore puts the team under immense working-schedule during campaign tours; and I believe this indeed is a foretaste of what is instore for ministers and other appointees under his presidency, which by the grace of the Lord Almighty, will surely happen on 7th December, 2016.

Writer's e-mail: justnoff@yahoo.com