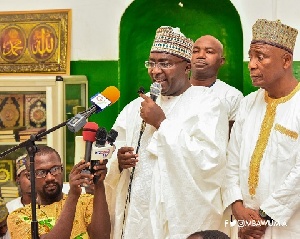 Last week, thankfully, the Vice-President, Dr. Bawumia, returned to Ghana after a healthcation. The scenes were eerily familiar, except for the jogging on the tarmac, to the triumphant return by late President Mills. This time though, the Veep looked so healthy that jogging was unnecessary!
On a serious note, I have been disappointed that this crisis was not used as a chance to have a serious conversation about our healthcare system.

Obviously, the repeated trips by our leaders for care abroad is an admission of lack of confidence in our system and this view among our leadership class is firmly bipartisan. The condemnations of the Vice-President for seeking care abroad are insincere. Indeed, there are many anecdotal reports of diasporans on vacation in Ghana cutting short their vacations to return to "safer care" when taken ill.

As usual, some of the discussions have left the unfortunate impression that the places our leaders go for care are perfect. That would be inaccurate. Indeed while the Vice-President was in the United Kingdom, the British Parliament had a serious, well-informed debate on patients waiting too long in the back of ambulances at Accident and Emergency Centers.

Across the pond in America, there is a serious debate about the opioid epidemic that claimed 64,000 lives in 2016 alone. The issue is considered so topical that the Senate Health Committee held a hearing at John Hopkins University, where they engaged the Presidential Commission for the crisis on the merits of a health versus national emergency with a good overlay of Obamacare. We could have a serious conversation about our healthcare.

Why do our leaders lack confidence in our healthcare system?
Why was P.V. Obeng not reached by an ambulance with oxygen on board within minutes of his collapse?

Was the ambulance that transported President Mills adequately equipped and staffed?

Why are state organisations not primarily tasked with health building hospitals? Did government authorize Bank of Ghana and GAPOHA to build hospitals? What shall we have next? AGRIC, NADMO and ENERGY hospitals? It would seem that despite the settled wisdom that healthcare is best provided outside hospitals, we seem determined to get to better health by building hospitals.

Then there is the matter of NHIS. Besides paying the old debt, what are we doing to ensure that the next government would not be paying debts and blaming its predecessor?

What are we doing about clearing "boola" and clean water and sewerage which will improve health more than the hospitals being built?
Health professionals and economists should join policy-makers in starting this conversation. Unfortunately, too many of our leading health professionals approach these issues as partisans rather than professionals. We attack or defend initiatives based on which government started or stopped which projects. Within our big hospitals, people do not relate as intellectuals but as partisans.

Dr. Bawumia underlined the significance of the moment when he said, "when God gives you good health, you really have to appreciate it". You do, your Excellency. Here on earth, Allah's work is our own and those who cannot reach care abroad are God's children too. Our leaders must give them the same care that exists abroad. Duty demands it. When the powerful turn their backs on our caregivers for care abroad, they undermine the confidence of the masses in our healthcare system.

You cannot urge the masses to use what you will not use. Alexander the Great underlined this for leaders for all time in 325 BC when he refused water while crossing the Gedrosian desert with his thirsty army. "There is not enough water for all of us and if I drink, they will be demoralized" he declared. I am confident that guided by this experience, the Vice-President will focus his energy, intellect and clout on making healthcare better. Finally, besides the leadership imperatives for making healthcare better, there is a very selfish reason why our leaders must care about the quality of our healthcare. It is this: SOMETIMES, THERE WILL NOT BE ENOUGH TO REACH CARE ABROAD