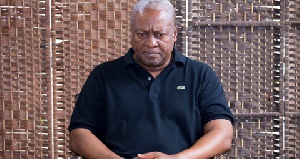 By Daniel Danquah Damptey
This message is directed at the proud, the arrogant and those who live in a fool's paradise and believe that they are better than others. It has been published before, but Ghanaians having lived through the arrogance, "akakabensem", "patapaasem" and litany of lies exhibited by the Nefarious Destructive Cancer, I sincerely feel a second publication will give us time to ponder on issues raised in this write-up.

Many a time, we see, meet or read about people who value themselves so much that they have no regard for anybody else. It may be their fine complexion, their wealth or their strength and courage in fomenting trouble. Outgoing President, John Dramani Mahama was somebody who was respected and cherished by many Ghanaians.

That was the period just before he was nominated to partner late Professor Atta Mills. Unfortunately President Mahama and most of his ministers appeared to have fallen into the class of such people who in their lifetime try to invent God.

In all walks of life, proud people abound. Frankly speaking, a man has no good reason to be proud. If we analyze man's achievement, his worth or his possessions, we can see that he is deficient. The genius is still ignorant of many things. He is still untutored in many aspects of life for no man is all-knowing. The beginning of all knowledge is the realization that "I know nothing". There are always people who are much wiser than ourselves whom we should consult or seek their opinion in order to improve on our knowledge and understanding of the universe. Knowledge is an endless pursuit, a life-long journey.

President Mahama, Vice President Amissah Arthur, Omane Boamah, Kofi Adams, Kofi Porturphy, Ade Coker, Allotey Jacobs, Fiifi Kwetey, Koku Anyidoho, the Babies with sharp teeth, the Greedy Bastard and the Evil Dwarfs should take a look at a woman's body and answer this poser. Should she be proud because of it? No! It is a borrowed garment which will soon wear out or tear away.

Like a flower, this beauty blooms in the morning or during her youthful days and will surely fade away in the evening or during her old age. No woman maintains her beauty till the end of her life. Therefore, no woman should bluff people because of this uncertain perishable commodity.
President Mahama and the IGP , John Kudalor ought to have pondered over that and come to the realization that their "bravado", tantrums, self edification, disrespect to fellow human beings, holier than thou attitude, and always wanting to be the centre of attraction would one day come to an end. The IGP reckless utterance that he owed no body any apology after the men under his command had turned the routes of a peaceful demonstration by members of "Let My Vote Count Alliance" into a war zone leaves a soul taste in the mouth.

Again, reckless statements made in the presence of the President by his acolytes like the "Presidency is not for short people", "he, who does not feel the 'Bitter Ghana Agenda' is either sleeping or dreaming", If you use gold to make the streets of Kumasi, Asantes will not appreciate it", It is only those who have been president before that can criticize him(President Mahama). Ethno centric remarks like "if the NPP wants the vote of Northerners, they should put a Northerner as its Flag-bearer" did not help matters"

To make matters worse, the President degenerated into a serial caller by repeating verbatim everything everything his subordinate said and referring to his main political opponent in uncomplimentary terms. Referring to the Chairman of the NPP as "Opana" was the last thing one should expect of a President. So, when President Mahama fell what a great fall it was!

Judge a man's wisdom. Even Solomon, all his glory still wanted more wisdom. Why not? Wisdom, after all, is a spark which a man borrows from God. Look at a man's wealth. This comes and goes and has no lasting value. Many wealthy people turn poor and miserable by sheer change of fortune. I pitied President Mahama as he was delivering his concession speech. He was a man who had every power and could do an undo. Now, power is slipping off his hands. We should be careful with the way we exercise power.

When we hear that the IGP and the high ranking Police Officers had gone to pledge their loyalty to the President-Elect, I laughed myself to stupor. Hmm, the IGP has realized that "power pass power". While the going was good for them, they forgot the fact that power is transient. Now, the hens have come home to roost.

Does the IGP think the incoming administration will retain him in office? I am not a soothsayer, but I doubt it. If he had exercised the powers entrusted to him with circumspection, maybe, and I use the expression, maybe, the NPP Government might think of that possibility.
But now, as it appears, I make bold to state that IGP John Kudalor is falling, falling…… sinking fast into the deepest abyss, the ocean of forgetfulness where he rightly belongs.

My candid advice to President Mahama and his men is that they s face of God and ask Ghanaians to forgive them for the unpardonable crimes they have committed against God and humanity. Instead of members of the outgoing government especially President Mahama thinking they are the repository of all knowledge with their innuendos and sarcasm, they should humble themselves like Julius Nyerere, Leopold Senghor, Nelson Mandela, Jimmy Carter and Bill Clinton and offer voluntary service to purge themselves of all the crimes they have committed against our motherland.

Did President Mahama take time off to observe a man's might and strength? A soldier, regardless of anything, mows down lives on the battlefield like a farmer weeding his farm. Sooner or later, he too is mowed down notwithstanding his strength. What then is President Mahama and the Security Chiefs strength and power when they cannot conquer death? They ought to have realized that so many people, indeed, their betters had lived before them.

They tried to invent God. They failed because they could not possibly change nature. This should be a lesson to all such people. They should take their time and spend it better in building themselves.

President Mahama and the NDC should have some moments of reflection of the pride and power that was Great Britain. She used to rule the waves, the skies and everything. Where is she now? A shadow of her former self, living on its past glory! What about Napoleon Bonaparte? He wanted to conquer and rule the whole world just like President Mahama and his Nefarious Destructive Cancer wanted to do. What happened? He crumbled.

I said in most of my write ups that President Mahama would surely meet their Waterloo and Armageddon in their efforts to stifle the truth so as to cow the masses into a position of subjugation. And it has happened!
Remember Julius Caesar and his arrogance – "Danger knows that I am more dangerous than he (danger) We were two lions littered in one day and I the elder and more terrible". What arrogance! That was arrogance at its extreme.

Yet our arrogant Caesar was stabbed to death by his own best friend.

Surely the Tsunami and the Hurricane Catherine which President Mahama unleashed on his political opponents were the same tools which have swept him from the political limelight into the dungeon where he really belongs.

It is in this wise that my humble appeal goes to outgoing President, John Dramani Mahama and his cohorts who felt they had been ordained to rule this country through lies and deceit to beware of the immense influence of God's power over affairs of the universe, for God abhors lies, violence and cruelty to fellow human beings. They should reflect on the fact that they are not the first to possess such crude and inhuman traits which made people run helter-skelter when they chance upon the former.

But let me ask one question. Does being charismatic depend on forcing one's will on another? What people term charisma will soon fade away and the real face will bear its wrinkles in its own time. It is only a matter of time.

Did President Mahama and the top members of the NDC ever sit down to think about how apartheid crumbled in South Africa? After subjugating a group of people to a position of servitude, a De Clerk came to alter the status quo.
What about the Soviet Union and its Satellites? A surgical operation undertaken by Mikhail Gorbachev with his Perestroika and Glasnost was enough to bring the Giant to its knees. A De Klerk in the person of the Gentle Giant (J.A.Kufour) came and a Gorbachev who has been lurking in the corner and waiting to administer the coup de grace has now sung the requiem mass of the NDC

The capricious use of power by President John Mahama to pardon the "Muntie Three" against the advice of his legal counsel, Tony Lithur confirms my view that the President was acting like God, and daring the rest of us to say anything if we had guts. He forgot the fact that there is a Supreme Being who superintends over the affairs of His entire creatures. Thus, I will shed no tears for John Dramani Mahama, for he played a dangerous game and lost it.

This is a big and bitter lesson to the Nefarious Destructive Cancer. They should cool their heads for they could not invent God and overthrow the world of tomorrow. There have been their betters who also tried this feat and failed. They tried to intimidate and suppress the public with their threats of mayhem but failed because they were not sure how long their power to foment trouble would last.

We live in a wonderful world where anything could happen.

Daniel Danquah Damptey (damptey_daniel@yahoo.com)

(Self-Appointed Special Aide to Decisive President-Elect, Nana Addo Dankwa Akufo Addo)