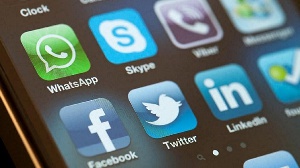 The potency of hoax and fabricated news has been prevalent in WhatsApp and other social media. From India alone, not less than one million messages and video news are sent to WhatsApp and other social media every month. Only about 150 messages and videos are said to be true. The rest are fabrications and hoax.
Such news items have a wide reach. Depending on the news, readers and viewers who fail to see them as hoax either get scared, startled or experience a feeling of insecurity. Not many are able to determine very early that the news items are just fabrications. Almost every country, including Ghana, has had its share of such hoax news on social media.

We all woke up one day to read on WhatsApp that former president of Ghana, Jerry John Rawlings had passed away at 69. The news spread quickly on all social media. When the news of the alleged death reached Rawlings he was upset about this fabrication which did not help anyone.

Michael Essien, former midfielder of Chelsea and Black Stars, was reported dead. The news was on WhatsApp, Facebook and other social media that Essien was involved in a fatal accident in Indonesia where he plays for a local club, Persib Bandung. Sadness engulfed Ghanaians and lovers of football worldwide only to find out that the news was a hoax.

Ghanaians were shocked when they heard the news of the disappearance of Ghana's rap artist, Castro, and another lady. As Ghanaians were trying to come to terms with the mysterious disappearance, news came around that Castro was still alive.

The one that took WhatsApp and other social media by storm was the confirmation of a lawyer who was interviewed at Adom FM that Castro was under intensive care in a hospital in Lomé, Togo's capital city. A funeral that was supposed to be held by Castro's family was halted. A group was sent to that particular hospital the lawyer was referring to. Castro was not there. The news was a mere fabrication and a hoax.
These days many funny sayings shared on social media have been attributed to Robert Mugabe. In the beginning, people believed that Mugabe actually said those things since the man is used to saying controversial but brilliant things. But when they were becoming too many, people realised they were false news.

Zimbabwean government officials formally issued a statement denying that Mugabe said such things. Here are two of my most popular "Mugabe sayings": 1. Girls who are called Monica like money and cars. 2. Dear ladies, if your boyfriends did not wish you a Happy Mother's day or sing sweet Mother for you, you should stop breastfeeding them. Of course, Mugabe didn't say these things. Dear reader, what is your favourite Mugabe saying?

Such social media fabrications are sometimes used by industrialised countries to undermine the progress of other countries' economy. A devastating news item was carried on WhatsApp claiming that China is now producing and bagging rice made of plastic material.

Many were fast to authenticate the claim on videos to demonstrate how the rice looks like when it is cooked. The Chinese contend that if what people are claiming is true why is the World Health Organization (WHO) silent?

The Chinese claim this fabrication was designed by the Americans who, according to the Chinese, are obviously scared by the fast rate of development and progress of the country. The Chinese decided to payback in the same coin and put the Americans to shame.
Soon a video that shocked the world was making rounds on social media. The video showed a truck loaded with human cadavers in front of a McDonald's outlet. The Chinese claim the dead bodies are mashed in machines and used for the burgers which are distributed to all McDonald's restaurants.

When this horrific video came out, about 25% of visitors who patronized the restaurant, it was reported, stopped eating at McDonald's. The directors denied this claim as a mere fabrication.

There was another video claiming the Chinese were now eating aborted babies and even full babies who are sold by their parents. According to the narrator, foetus and embryos have been made into soup for human consumption. It is believed the Chinese are eating this to increase health, stamina and sexual performance. The media war between America and China is still going on. This fits well in the Ghanaian parlance, "if you do me, I do you".

Immediately after the 2016 US election, the potency of fabricated and hoax news came into focus. Fake news on the elections began to appear on social media during the run-up to the ballot. The first put Mrs Clinton in a comfortable lead. When the reality of the election dawned on Americans, another news item that was clearly fabricated appeared on social media that Donald Trump had hacked into the electoral commission's computer system to add more votes. This news drew more attention than any other news in the major news media in the United States. This turned out to be mere fabrication.

Often, people make up their own wisdom words and attribute them to famous persons. One of the most serious ones appeared a few years ago about the last words of Apple founder, Steve Jobs, in which he regretted having spent all his life looking for money but not having time to spend it. The passage was so long and detailed that nobody on his dying bed, in the throes of pain, drifting between life and death, could possibly have said those things as his last words. It was purely fake news.
WhatsApp, Facebook and other social media should be used with much care and circumspection. Not all news published in these media can be taken as true and authentic and therefore such news that smack of fabrication and hoax should not be shared. Some are true but many are not. There was a humorous message I received some time ago telling me the food items that are dangerous to my health.

It was a very long list that contained all the food items that I can possibly think of ever eating in my life. It was when I was going to complain and ask which food items are left for me to eat that I realised it was a joke – no food item is good for your health so the best thing is not to eat anything at all and starve to death! I appreciated the joke. But what about those who don't see the humour?

Because of advances in picture and video editing programmes, it is easy even for amateurs to create false pictures and videos. We have to be careful about the things shared on social media and how we believe in them. Often, when you read something that is asking you to share it with others, you must be suspicious.

You must check and check again to see if it is genuine. Fortunately, there are many websites that are devoted to debunking false social media messages. Anytime you have your doubts, just go online and check if it is not another hoax to make your life terrible. Never share a story you are not sure of.

Columnist: Stephen Atta Owusu
Author: Dark Faces at Crossroads

Email: stephen.owusu@email.com