The ultimate test of practical leadership is the realization of intended, real change that meets people's enduring needs- James MacGregor Burns.
First and foremost, what we should look out for as a top priority in choosing a leader, is a person who will truly redefine the vision of our party in this challenging contemporary democracy with adequate capacity to actualize the vision and meet the needs of not only the party, its members but the country at large.

The NDC party and its grassroots is in true search of a leader who will anchor the boat successfully around its core foundational values and take-up the administration of the country's resources efficiently and effectively.

There are divergent views about who leads the party towards election 2020 and beyond. I don't know your views but what I'm very confident about is a leader who upholds the principles with competitive leadership qualities will not only win but leave a lasting legacy in the minds of the ordinary Ghanaian. What I am also sure of is no political party is in search of a manager but a leader. Managers have subordinates with specific task whiles leaders drives the change with followers. And Rosalyn Carter can't agree with me further by saying, ''A manager takes people to where they want to go. A leader takes people to where they don't necessarily want to go but ought to go''.

I take a deep inspiration in my quest to demystify the leadership search out of the words of American 6th President (1825-29), John Quincy Adams, the eldest son of John Adams, 2nd US President, '' If your actions inspire others to dream more, learn more, do more and become more, you're a leader''. This profound timeless statement lingers on my mind and gravitates me to search the more for such a leader in our congress.

My question is, do we have such a person amongst the hopefuls? Just take a little time and think deeply about the lives and traits of these high profiled personalities in our politics; Mr. John Mahama, Dr. Spio Gabrah, Mr. Alban S.K Bagbin, Prof Joshua Alabi, Mr. Sylvester Mensah, Mr. Rickette Haggan, Prof Kwesi Botchwey and many others. Do note that my arrangement is not in any order of preference. These are all seasoned professionals with years of diverse experiences in both public and private sectors respectfully. Which of them has what it takes to lead the National Democratic Congress at this peculiar and crucial moment of the party?

It is true many see leadership for that matter, political leadership from different angles. Some as a means to getting rich quick and eventually get corrupt quickly but I think there are still those, who believe political leadership as a call for faithful service to humanity and country.

I will attempt to bring our minds on few mindboggling views on leadership for us to juxtapose it with our dilemma and take firm decision(s) on who should lead us to political leadership and victory.
In the presidential slots and other party leadership positions across the structures, the most important aspect to consider when choosing for a leader must not only be about his or her colour, tribe, faith, wealth, societal class, etc. But rather how much such an individual embodies these core values: Truth, integrity, accountability, patriotism, leaving for the sake of others and many other good leadership qualities. If these values are missing, we can be sure that, we will not have much to offer to our party talk less of our country. I don't want to go into the everyday definitions and characteristics of charisma, eloquent, influential etc.

We need a leadership that will appreciate and understand the dichotomy of our struggles and the challenges that confront us today as Africans both in Africa and in world, and as a country and a party in multiparty democracy and charter a way forward towards prosperity; a leader with no penchant for corruption and with the tenacity to ensure that his fellow comrades do not corrupt themselves; a visionary leader with passion and drive for socio-economic and infrastructural development of our country; a leader that will restore the dignity of our national institutions and social order; a leader with high moral grounds; a leader with empathy and deep emotional intelligence to understand times and seasons of our political climates and human nature; a leader who will become a unifying force for the party, and one to allow for equal representation of all views and genre of people in the nation.

Since 1881 the conquest of the African continent kicked off, European nations have had fastidious hold on African countries including Ghana. Nonetheless, the wind of change that started in the early sixties saw a new phase of socio-political development in the continent championed by Ghana.

In their struggles to make Ghana free and truly sovereign, the various leaders after independence were exposed to a new form of order that was not too different from the vice they had been fighting against: the neo-colonial trend. Leaders like Nkrumah remained fighters for a truly free nation although the world had it in books that our beloved nation was the master of her own destiny. This trend of events continued and most of the leaders who came after Nkrumah were compromised to bow their heads and give back their birth-rights to the old beast of oppression. Corruption would reign for fifteen years in the hands of eight different governments, from 1966 to 1982.

The Beginning of a new Dawn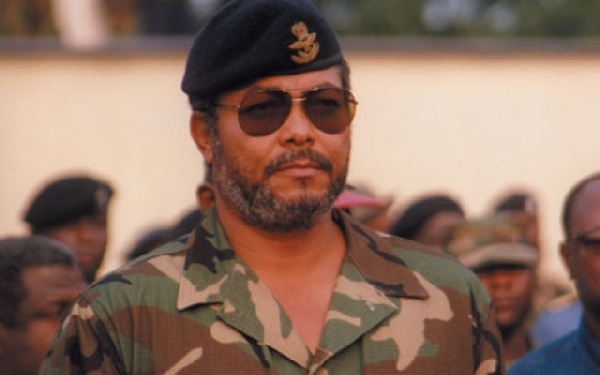 Thank God the nation was salvaged from the wreck through a divine intervention of the first emergence of Flt Lt Jerry John Rawlings in 1979- filled with optimism and hope of an African greatness influenced by the Pan African and socialist spirit with human and societal needs at the core of his leadership. He stayed aloof the political leadership and practically offered governmental control back to civilian rule; elites whom many had thought would deliver. It is said that, "We know the bad and we learn the good." People of integrity who should have espoused the values of unity, social justice, probity and accountability became rather the crowd-puller of division, dishing out the immorality of divide and rule; a scheme that was obviously going to help Ghana suffocate her socio-political sector into chaos and uncertainty. The economy suffered an unprecedented declined and the inflation rate would hit 70 percent with a budget deficit equal to 30 percent of the gross national product.
This surely necessitated the second coming of J.J Rawlings in 1982. From 1982 up until today, Ghana has been changing steadily, thanks to the massive contribution of one man's valour, determination, incorruptibility and patriotism.

It is but logical therefore that in the quest for great leadership in the NDC, comrades be acquainted with not only the flow of the history of the party but also the spirit of the nation, gagging it from a pre-colonial, colonial and neo-colonial eras and take into cognizance, the principles that would help the nation into sustainable socio-economic development.

The NDC party was created under a strong spirit of patriotism that embodies the values of Integrity, probity and accountability, truth and social justice. These values cannot be compromised. If they would, our nation may be ran-down and pulled backward into scenes similar to the ones in the eighties. This work therefore prescribes the type of leadership that is required not only to win elections but to carry on the values that have made the founder of the NDC build a shining legacy.

Subsequent series will further look into the legacy and the various heads of governments after him. It equally focuses on the great NDC defeat by NPP in 2016. I have also expounded on the current reorganization process and made an attempt to X-ray the hopefuls for the presidential 2020 and live the answer blowing in the wind so that right minded Ghanaians can choose without any bias but based on the values that would make NDC and Ghana great again - a great nation that will be placed at the forefront of African affairs and at the global front. A Ghana that will not only champion its domestic issues but fulfils the Prophesy and dreams of Dr. Kwame Nkrumah about the relevance and interconnectivity of our independence to the rest of Africa, ''The Independence of Ghana is meaningless, unless it is linked-up with the total liberation of Africa''.

Despite Africa's increasing demographics and the dividends it may bring at the long run, it also presents complex challenges to its leadership, and the citizenry. The rate of unemployment, poverty, population growth, migration, lack of portable water and sanitation etc., is on a high side across the continent yet endowed with almost half of the world's mineral resources.

Addressing these menaces therefore, call for a leap-step approach in embracing and institutionalizing principles of good governance and visionary leadership to take off an industrial revolution capable of harnessing its resources efficiently and effectively in addressing the socioeconomic needs of her people.

The continental leadership must rise above the petty party policy formulation and execution and move into a more progressively integrated governance system, where project continuity, value for money for projects and programs are assured.
I look forward to a day in Africa where corruption will have no political party colour and cost of projects would reflect actual value for money. The end to corruption becomes a state focused-action championed by all. The critical masses must rise above the walls of corruption, speak out and restore a culture of integrity back into our society.

It's indeed, a shame to see millions of Africans without food, water and shelter whiles few selfish people leave in affluence across the continent.

Africa remains the most attractive "princess" of the world and the future. We can only sit-up and take a centre stage if we get the right leadership as espoused earlier.

In the mist of these daunting challenges, the continent is also caught up with consistent demands for all kinds of partnership or ties from the West and that of the Eastern Tigers.

The rise of China and Russia's relationship with Africa redefine foreign policy of the West towards Africa and this leaves the continent almost at the crossroad. Is it this Africa that our legends and compatriots fought for? The success of Africa and for that matter Ghana is none negotiable; it is a divine providence. And the choices we make as a country in choosing political leadership have so much impact on the actualization of our destiny as a people.

Ghana has no option but to continue as a touch-bearer not only as a true Pan-African State that believes in the rule of law and the mantra as '' The Beacon of Democracy'' but a country of integrity that believes in setting a solid leadership foundation to mitigate the challenges that may confront us tomorrow and restore the lost hope of our people.

As a party in transition, let's be mindful of how we address the issues that confront us, the decisions we make each and every day, and the leadership we aspire to have. Let's put aside individual interest and unite towards the core values of our party. That is a winning strategy.
Let us all remain resolute and focus on building the structure without malice, self-destruction and perpetuation of lies. We should also understand that, leadership emerges and whoever emerges freely and fairly from conference and congress should be given the needed support to drive the change we hope for.

In conclusion, I entreat all to reflect on the words of these great leadership thinkers, as we continue the search for leadership.

''Superior leader gets things done with very little motion. He imparts instruction not through many words but through a few deeds. He keeps informed about everything but interferes hardly at all. He is a catalyst, and though things would not get done well if he weren't there, when they succeed he takes no credit. And because he takes no credit, credit never leaves him''- Loa Tse, Tao Te Ching

''It is not the critic who counts; not the man who points out how the strong man stumbled, or where the doer of deeds could have done them better. The credit belongs to the man who is actually in the arena, whose face is marred by dust and sweat and blood; who strives valiantly; who errs and comes short again and again; who knows the great enthusiasms, the great devotions; who spends himself in a worthy cause; who, at best, knows in the end the triumph of high achievement, and who at the worst, if he fails, at least fails whiles daring greatly, so that his place shall never be with those timid souls who know neither victory or defeat- Theodore Roosevelt- American President.

Written by:

Donald Cog Senanu Agumenu, Leadership and Governance Expert, Member of NDC National Research Committee.