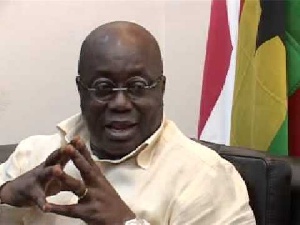 By Katakyie Kwame Opoku Agyemang
The recent electoral victory of the New Patriotic Party (NPP) over its main opponent and incumbent government, the National Democratic Congress (NDC) cannot be said to be accidental. It was a victory well-fought by the rank and file of the Party due to strategic planning, vigilance and commitment on the part of members. Although, several factors accounted for the massive victory, one area I would like to draw readers attention to is the role played by Volunteer Groups in the success story.

In Ashanti and Greater Accra Regions alone, there were as many as 150 recongnised Volunteer Groups that contributed to our victory. Among them were Patriotic Ambassadors for Peace, Professional Ladies, NAFOP, Young Elephants, Nasara, Patriotic Ladies, Zongo for Bawumia, among others.

It must be noted that the emergence of these groups informed the Party Leadership to assign Mr. Andrew Kwasi Frimpong as the National Volunteer Coordinator for Election 2016. Thus, all the groups had to work under him and he in turn reported to the NPP National Campaign Team.

As readers might be aware, the political benefits of the Volunteer Groups, with regard to previous elections were not maximized for the Party's benefit. This is because the activities of the groups were not streamlined and were more or less limited to fun-fairs, meetings and partying.

In line with his promise to support whoever emerged the flag-bearer of the NPP after the 2014 Presidential Primaries, Katakyie Kwame Opoku Agyemang, an Electoral Area Coordinator in the Bekwai Constituency formed Patriotic Ambassadors for Peace (PAP). This was after rendering an unqualified apology to Nana Akufo-Addo for the excesses in the primaries.

The objective of the Group was a simple one: to bring peace in the NPP and canvass for votes for Nana Akufo-Addo and NPP Parliamentary Candidates. The modus operandi was to embark on outreaches, do voter education, make donations, issue press releases and more importantly, involving ourselves in the activities of the local people. It has "Pinpinaa - Nanaa! as its slogan.

This, no doubt, touched the hearts of many patriots and as a result, Katakyie received technical and financial support from Irene Ponu-Brenyah, who happens to be the first granddaughter of the late Chief SD Dombo, Ing. Emmanuel Obeng-Atuah, Hon. Clement Eledi (former Dep. Minister), Michael Amoh, Alhaji Mohammed Adams, Augustine Manu, Adu Gyamfi, Andrew Oppong Amoako, Kwadwo Opoku Adomako, Derek Kwaku Nkansah (Paa Nii), Akora, Tracy Dombo, Kwabena Boateng Jacaboba, Emmanuela Kwakyewaa, George Asomaning, Dr. Kofi Osei-Afoakwa, Cecilia Appiah, Emmanuel Owusu Mensah and others whose names cannot be readily mentioned.

On Saturday, November 7, 2015, PAP was officially inaugurated in Kumasi to set the ball rolling. About 40 participants from all parts of the country graced the occasion and since then, the number has risen to 300. The inauguration was followed by an official visit by the Group to Nana Akufo-Addo at his office in Accra on February 3, 2016 to receive his blessings.

As a Political Volunteer Group, there were a number of challenges with regard to logistics and funding, but this did not deter the Group from carrying out its activities. The members were focused, disciplined and patriotic and as a result, collectively helped in achieving the following:

Outreaches

A 3-day outreach programme at Ahafo-Ano North Constituency (Tepa) - Ashanti (27-29 May, 2016) - NPP PC - Suleman Sanid

A 3-day outreach programme at Mataheko in Ningo-Prampram Constituency in Greater Accra (8-10 July, 2016) - NPP PC - Sylvester Tetteh
Another 3-day outreach programme at Prampram in Ningo-Prampram Constituency (28-30 October, 2016)

A 3-day outreach programme in Ho-West Constituency (Abutia, Volta Region) (26-28 August, 2016) - NPP PC - Isaac Kwame Adika

A 3-day outreach programme at Oyibi in Kpone-Katamanso - Greater Accra (7-9 October, 2016) NPP PC - Solomon Tetteh Appiah

A 4-day outreach programme at Ingleshie-Amanfrom/Bortianor Constituency in Greater Accra - (16-18 & 25 September, 2016) NPP PC - Alhaji Habib Saad

One day door-to-door campaign at Hohoe in Volta Region - 19/03/2016. We have also participated in the Hohoe NPP PC's (Marlon Anipah) cocktail fundraising event in Accra.

A 3-day outreach programme at Gledi-Chebi, Gledi-Godame, Fodome-Axor at Hohoe Constituency in Volta Region (11-13 November, 2016.

Donations:

A 1000 posters of Nana Akufo-Addo and NPP PC for Jirapa, Jesse Sung Kpetia (June 2016)

A brand new motorbike to NPP PC for Jirapa, Jesse Sung Kpetia as well as books, used clothing, rice, cooking oil (November 2016)

A 1000 posters of Nana Akufo-Addo and NPP PC for Ellembelle, Bonzoh Kwasi (July 2016)

Donation of 106 boxes of Campaign items to Bole-Bamboi NPP PC, Alele Veronica Heming and got its shipment cost of £4000 from the UK to Ghana on gratis.

Two (2) bicycles to the NPP Dabala Office - South Tongu Constituency in Volta Region (26/08/16)
Seventy-five (75) NPP T-shirts at a cost of GHC750 to NPP Ho-West Constituency PC, Hon. Adika to aid his Health Walk programme (27/08/16).

Supported Kpone-Katamanso with posters and repair of a broken pick-up - August, 2016.

Donation of one set of Computer, reading books, rice, cooking oil, pampers, wipes, mosquito nets to NPP Ningo-Prampram Office for the elections. (30th October, 2016).

Donation of one set of computer and a box of books for NPP Hohoe Constituency in Volta Region to aid their campaign (13 November, 2016)

Donation of one set of Computer, megaphone to the Bekwai Constituency Office and reading books, rice, cooking oil, football, used clothing to Dadease Electoral Area for the election - December 2016)

Donation of reading books, rice, cooking oil, used clothing, to the Weija-Gbawe Constituency Office for the election - December 2016)

Presentation of a cash donation of GHC2000 to the NPP PC for Ningo-Prampram (Sly Tetteh) for the Election Day activities (4th December, 2016)

Presentation of a cash donation of GHC1500 to the NPP PC for Ngleshie-Amanfrom (Habib Saad) for the Election Day activities - 4th December, 2016)

Presentation of a cash donation of GHC1000 to the NPP PC for Ahafo-Ano North (Suleman Sanid) for the Election Day activities - 4th December, 2016)

Presentation of a cash donation of GHC1000 to the NPP PC for Jirapa (Jesse Kpetia) for the Election Day activities - 4th December, 2016)

Other Activities:

A clean-up and sensitization exercise at Wa Central Market - Upper West (19/03/16)
Local outreach programmes at Kanvilli, Yapei, Kasawgu in Northern Region (June, 2016)

Active involvement of PAP members in the limited voter registration exercise as guarantors, polling agents, campaigners, monitors (April-May)

Propagation of NPP's message of "Change - an Agenda for Jobs" through press releases and on the mass and social media - TV, radio, Internet, newspapers, Facebook, social functions - funerals, churches and making donations

Undertook series of training workshops under the auspices of the National Volunteer Coordinator, Andrew Frimpong (March 2016)

Participated in NPP programmes - health walks, demonstrations, campaign, manifesto launches etc

Designed our special PAP T-shirts for our outreach programmes to make us unique and the Party visible and attractive.

PAP National Conference and Fundraising Dinner at Tessano, Accra - 26th November, 2016 to award our sponsors and raise funds to adopt polling stations.

Involvement of PAPers on Election Day Activities as Agents, Monitors etc

From the forgoing, it is obvious we took the December elections with all the seriousness that it deserved. No wonder victory became ours. It is my hope that the NPP Constitution would be amended to incorporate the position of Volunteer Coordinator with a clearly-defined role just like the other recognized positions.

I would also like to recommend that, these volunteers who risked their lives in the hinterlands, left their families for weeks, contributed financially in spite of the harsh economy, be given their fair share of the national cake, especially jobs. When this is done, the NPP's challenges in Election 2020 with regard to campaigning could be minimized.

For PAPers, we've worked hard, done our best, and we leave the rest to Almighty God.

God bless Ghana!
God bless H.E. Nana Addo and NPP!!

God bless PAP!!!

Katakyie Kwame Opoku Agyemang - National Coordinator

Irene Ponu-Brenyah - Chairperson - Policy Think Tank (1st Granddaughter of SD Dombo)

Andrew Oppong Amoako - Director of Operations

Doreen Maluzei Dombo - Director of Media Affairs

Katakyie Kwame Opoku Agyemang

(Asante Bekwai-Asakyiri)