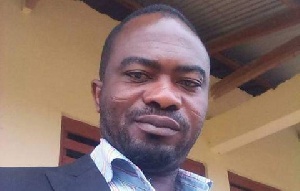 A particular video is currently trending on our various social media platforms, where a headmaster by name Mr Robert Sepey of Edumanu D/A Basic School in the Asikuma Odoben Brakwa District of the Central region is seen videotaping himself having an affair with one of the students who is underaged according to our constitution.
I felt very sad after seeing the video and my concern isn't about whether the girl is under age or not but my biggest concern is about the vulnerability of her as a student and the man as the school's headmaster.

I know some people too will be of their own view that, "the headmaster did not take advantage of her".

Let's agree it is so but let's not also forget that this girl in question is someone's daughter, sent to school to acquire knowledge and skills to be useful to the society someday and NOT to get involved in such acts.

To the girl, you have done well. Just imagine the kind of shame you have kept your family and yourself in, you have been unfaithful to your parents who are trying all their possible best to see you through life successfully but the best you can give them, for now, is this kind of shameful act.

Let's not pretend as if these kind of indecencies aren't happening, they are happening every day so this case isn't the first of its kind neither is it the last.

To the headmaster, you have made a bad influence in the society that's worse emulating but what funny me in this issue is, I thought by now women will be sad and demanding justice for their daughter, but it's rather unfortunate that they used it as fun on social media, very sad to imagine.
Mr Robert Sepey, today we have seen you as someone who is morally unfriendly to the society, a big man like you, your position as headmaster and all the good works you have done but today we have seen you as somebody who is ungrateful to the society, your family and your friends as well for being involved in this ungodly act, doing without shame and thinking you will be able to hide it from the public forever, NO! My brother, it will come out, like how it has just happened and now that you are on the run, the law is also on course looking for you and definitely, you will be found and dealt with.

As I earlier on said, it's something that happens every day and so shall the perpetrators also be exposed and dealt with every day.

Not only am I talking about the field of teaching but all aspects of work, where others take advantage of people's daughters and involve them in these acts having the mindset of it being undisclosed, that's a sick way of thinking my brother.

Also, to those involved in indecent attitudes especially towards our young ladies, please be careful because very soon yours will be exposed too.

Remember, "The memory of the dead is a warning to the living". Stop taking advantage of people's daughters and do your job as prescribed by God and man.......

Be a responsible citizen......