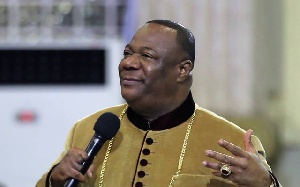 The sick feeling some learned Ghanaians gives to the general public when they speak and exposes themselves to public ridicule is getting worse.
Least provoked by other person's opinions, they pounce on the speakers to either attack their profession, character by insulting or condemning them.

By doing so, the learned who hold titles such as professors, doctors, Nana and what have you, exhibit pettiness and how they lack knowledge and wisdom.

Trending on various Ghanaian social media platforms was the declaration of the 72 hours fasting and prayers by Archbishop Nicholas Duncan Williams to offer powerful prayers for God to better the economy of Ghana.

Reacting to Archbishop Duncan Williams's declaration, Dr. [Nana] Obiri Yeboah, a psychologist said the minister of God should rather convert his church into a factory to offer jobs and increase production and revenue for the government.

Such a reaction not only distasteful but also showed how the so-called psychologist lack wisdom and knowledge he wants us to believe he is learned and must be respected.
To remind Nana Obiri Yeboah, Archbishop Duncan Williams is not a politician but a prophet of God therefore his declaration of 72 hours fasting and prayers to intercede for the nation was in the right direction.

He as a prophet of God was not in any way showing pride, arrogance or either usurping his powers in interfering in anyway the exercise of the ruling of the country as the power lies in the hands of the president Nana Addo Dankwa Akuffo Addo and he is exercising it judiciously.

He acted according to the principles set out in the bible as a prophet of God to aid the president and his government to rule God's people, the country so where did he go wrong?

Dr. Obiri Yeboah must be made to understand that in this 21ST Century, countries are no more waging physical war against another country to conquer and colonize.

But, he should know that nations are going under spiritual bondages, attacks, economic hardships, citizens are going through spiritual bondages that make them poor therefore the need for the prophets of God to rise and intercede for the country, heads of states, governments, and citizens.
Had Dr. Obiri Yeboah taken his cool and researched through the Bible, he would have come to realized that the prophets interceded for their towns, rulers and the ordinary citizens when matters got to the head and there were no way out.

So Archbishop Duncan Williams was acting in line with King Jehoshaphat who interceded for his land and the citizens and God intervened.

The book of life "The Bible" shows us how to intercede for our country, the president, governments and its citizens whenever there is an attack whether physical or spiritual.

The whole chapter of second Chronicles 20 tell us that when King Jehoshaphat and his men were surrounded on all sides by enemy forces. There was no escaping and they were far outnumbered.

A sea of well armed, well trained, well-organized troops was fast approaching. And Jehoshaphat wasn't up against just one enemy. He was up against three fierce armies' intent on utterly annihilating him and everyone with him.
Jehoshaphat men were looking up to him for leadership and he had no answers. His adrenaline was racing through his body on overdrive. He started sweating and shaking.

He got a sick feeling in his stomach as fear started taking over. No matter where he looked, there was no way of escape. He was not equipped to handle an onslaught from three enemy forces at once. His men would have fled, but there was nowhere to turn to.

The king was running out of time before the enemy fired the first short. That was when Jehoshaphat got down on his knees and prayed to God. He called everyone-soldiers and civilians alike-to fast and pray and seek the lord. He knew that his only hope was in the lord who is mighty to save.

He stood before the people and cried out to God, reminding him of his covenant as the whole nation including women, children and babies-looked on.

Suddenly a prophet arose from the group with a prophetic warfare strategy straight from the throne that promised victory over all Jehoshaphat's enemies.
When they followed that prophetic warfare strategy line upon line, their enemies all of them fell, and God was a hero.

Nana Akufo-Addo on countless occasions has said that the battle and challenges of developing the country is the lords and has been urging the clergy to intercede for the country, leaders and the entire citizenry.

Let us join Archbishop Nicholas Duncan Williams to intercede for the country and stop losing our intelligence and wisdom on wasteful talks on media platforms.