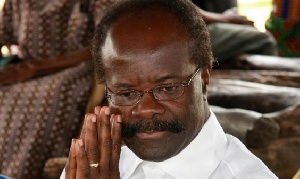 Amanshianyebi Joe
Communications Directorate

PPP UK & IRELAND

London

Once again we are being dragged down the path of chartered muddy waters, leaving a trail of stench that could have emanated from only one source. The suspicion surrounding the recent shenanigans of the elections establishment in Ghana, against the backdrop of disqualification of Presidential aspirants and court cases, has confirmed what we, the PPP and fair minded people of Ghana have always known.

One wonders if the forthcoming elections will be free and fair when the powers that be have taken it upon themselves to be judge and jury and clearly abusing the powers invested into them with some arrogance arrogantly.
The orchestration by the system to frustrate contenders into throwing in the towel before the main fight commences tells us that perfecting the electoral process in Ghana would require a saintly Electoral Commission led by a chairperson with no former strings attached to any political party.

What the Economic and Organized Crime Office (EOCO) has attempted to do,: selecting some Presidential aspirants, Dr. papa Kwesi Nduom and Dr. Hassan Ayariga to turn themselves in to account for their sources of funds for their campaigning is an act of desperation to mitigate the faux pas its counterpart, another State institution ( Electoral Commission) has embroiled itself in; fabricating administrative misdemeanors to justify the exclusion of the strongest contender in the coming December elections in the person of Dr. Nduom..

Needless to mention the ludicrous and insanely act that has prompted the latest diabolical call to investigate the campaign funding of the PPP and APC, the EOCO has got its knickers in a twist with even Members of Parliament from opposition parties calling this mindless act "irresponsible". Why not investigate all Parties but select a few?

No one needs any introduction to the wealth status of the two flag bearers in question so coming up with such laughable, flimsy reason for the intended investigations makes it all the obvious what the State machinery is trying to achieve. And considering the hard-working Ghanaian tax payers are bank rolling these institutions is what should be investigated and not the lousy irresponsible time wasting call to investigate the PPP and the APC.