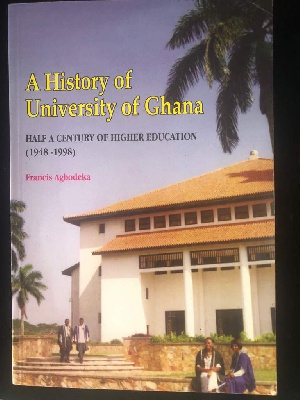 On the 14th of March, 1995, the then Vice Chancellor of the University of Ghana, Prof. George Benneh together with Mr. G.F. Daniel (Jnr.), the Registrar, commissioned Prof. Francis Agbodeka to write the history of the University of Ghana ahead of the university's Golden Jubilee celebration in October 1998.
In what has been described by celebrated academics and great historians such as Prof. R. Addo-Fening as "historical scholarship" and a "lucid" account of history, the book: "A History of University of Ghana - Half a Century of Higher Education (1948-1998)" has been well received by the intellectual community without debate or controversy.

We owe Prof. Francis Agbodeka a debt of gratitude for his painstaking effort and sacrifice in establishing the true, unbiased and accurate story of the University of Ghana. We must also salute the foresight and leadership of Prof. George Benneh and his colleagues at the helm of affairs in Legon during that period for conceiving the idea of a book to properly and accurately document the history of the University of Ghana.

These illustrious citizens of Ghana have saved us from the machinations of historical revisionists led by President Nana Addo Danquah Akufo-Addo who will stop at nothing to skew the history of our country and its great institutions to satisfy narrow familial sentimental hegemonic interests.

As Prof. Agbodeka recounts, Dr. JB Danquah played an important fundraising role but even in that capacity, his other colleague from the Legislative Council Prof. Christian G. Baeta played an equally prominent fundraising role to help secure the £897,000 seed capital which was generously donated by cocoa farmers as presented by the Cocoa Marketing Board on their behalf.

It is rather curious that Prof. Christian G. Baeta having played a similar role as Dr. JB Danquah has been conveniently forgotten by our President as he touts his dearly beloved uncle as the Founder of the University of Ghana.
As has clearly been established beyond any scintilla of doubt, the University of Ghana project is a GHANA PROJECT.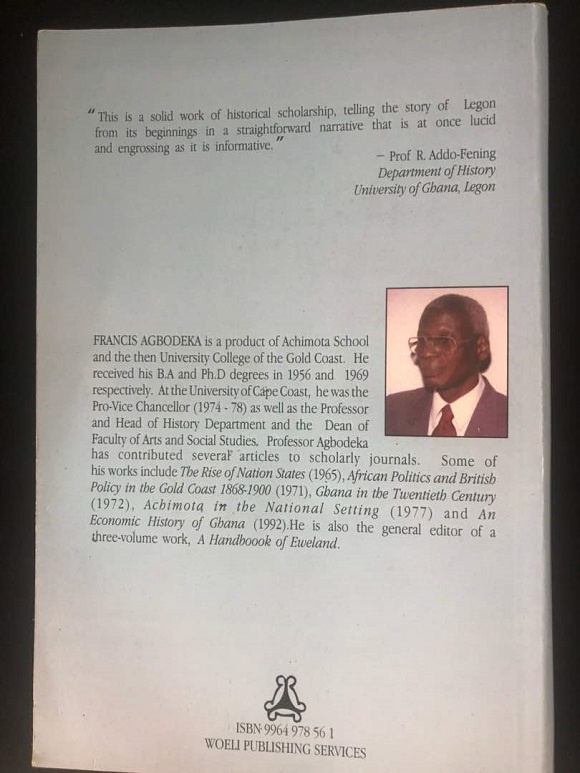 Credit cannot be taken away from the agitations of Gold Coasters between December 1945 and July 1946 at which period the Colonial Secretary in Accra was bombarded with petitions from such bodies as the Advisory Committee on Education, Achimota Council, the Standing Committee of the Joint Provincial Council of Chiefs, Asante Confederacy Council, Gold Coast Bar Association, Old Students Associations, Rodger Club, Accra; Hudson Club, Kumasi; and Gold Coast Teachers Union.

It must also be emphasised that the Asantehene played a very special role in this noble endeavour. It was the Asantehene who agreed with the Bradley Committee to have the first University sited in Accra with funds largely from cocoa farmers from the Asantehene's territory. This was on condition that a second university will be considered for Kumasi later.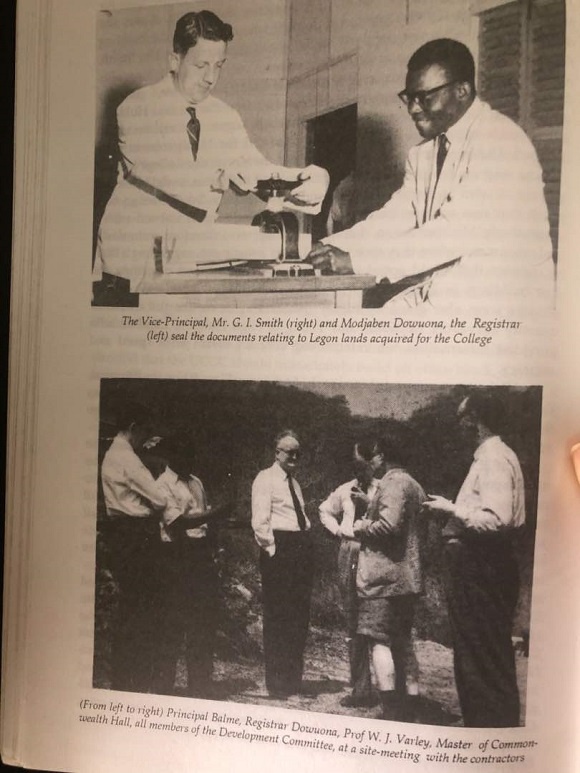 Confronted with this history, it will be near impossible to hoodwink Ghanaians that Dr. JB Danquah is the founder of the University of Ghana. Even if successful, it will amount to intellectual dishonesty of the highest order.

I also do not see how the current Vice Chancellor and the University Council will permit President Akufo-Addo to rename the University of Ghana JB Danquah University when the university's own commissioned work does not support this latter day distortion of history.

Like most alumni of the University of Ghana, I have confidence that President Akufo-Addo's hegemonic maneuvering will not see the light of day.

Clearly, seeing how far some Presidents may go in pleasing their uncles and other relations as they distort our history and rename monuments, it is time for this country to have an independent commission which will be the only legal entity with responsibility for naming and preserving national institutions, installations, assets and commemorative events.

We can do far better for the great University of Ghana instead of contemplating a needless change of name.
As I conclude, please see below snap shots from the highly recommended Prof. Agbodeka's book - "A History of University of Ghana" which is the source of this brief write-up. Hopefully, our President will secure a copy of this book for his elucidation.

Samuel Okudzeto Ablakwa

MP, North Tongu