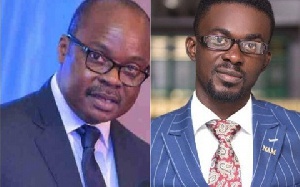 I have done some PR work for Menzgold in the past and I can state confidently that I understand the chain of their operations, I mean how things work.
However, I cannot state whether their operations, at every level, is in consonance with all the laws of Ghana that may be relevant. I was not their lawyer and I do not know much about the laws of Ghana, especially those that regulate the mineral and financial sectors.

But I can say with all contempt that Bank of Ghana is useless with the matter it keeps issuing notices, against the operations of Menzgold, claiming that Menzgold is operating illegally.

If a company in Ghana is involved in an illegality and Bank of Ghana has facts or is aware of this, what's with the nonsense notices it spends taxpayers' monies to issue regularly in newspapers that less than 1 per cent of the people read?

Why don't Bank of Ghana close them down or cause for its directors to be arrested—if indeed Menzgold is involved in an illegality?

What kind of nonsense is this? If a known armed robber is stealing and killing people, do we arrest him or plaster notices warning people who are blind to the notice to be careful?
How many market women, who are dealing with Menzgold reads these newspapers that the Bank of Ghana is wasting huge amounts of the Ghanaian taxpayers' money issuing notices in?

I can count over 5 notices in the last one year, issued by Bank of Ghana against Menzgold –and yet Bank of Ghana has done nothing beyond this.

If indeed what Menzgold is doing is illegal, is this how you safeguard the monies of Ghanaians?

The toothless manner Bank of Ghana continues to act reasonably indicates that Menzgold is operating within the law—Bank of Ghana probably has doubt about the future of the company and that's not illegal.

Bank of Ghana should leave Menzgold alone or close it down if they claim they are violating some laws—the unending warnings are just pathetic.