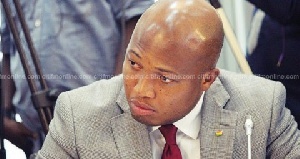 All those speaking out against the corruption epidemic that has engulfed the President's administration from civil society, academics, journalists, religious leaders, youth activists, well-meaning Ghanaians and diplomats who rarely publicly stir the hornet's nest cannot all be President Akufo-Addo's opponents by any stretch of imagination.
This needlessly defensive, deflective and insensitive posture will only embolden corrupt appointees to be even more brazen about their looting. The other effect will be to entrench the President's rather inglorious reputation as the Master Clearing Agent.

Today was a day for the President to exhibit sober, contrite, exemplary leadership by taking responsibility and convincing Ghanaians of new far reaching policy choices aimed at purging his government and ruthlessly rooting out the canker.

Instead of the unfortunate me versus my imaginary opponents, the President could have rallied the entire nation including members of all political parties, independents, friends of Ghana that must amongst others certainly comprise the diplomatic corps to join forces in fighting endemic corruption - which should be seen as the only real enemy at this material moment.

The fact is, we in the opposition constantly marvel at the credit the President gives us. It appears when it comes to making excuses for his failures, the President's tag of incompetence on the opposition no longer applies.

From Ken Bond, BOST/Movinpina/Zup Oil, GEPA, Special Development Initiatives Budget, Ameri Novation, NYA, PPA, PDS, Ministry of Works and Housing, just to mention but a few - these were all hatched within the very innermost circles. Indeed, not even NPP members of ordinary rank were allowed near the plot, let alone so-called opponents of President Akufo-Addo.

Did I also hear the President say it is investigative bodies that clear his appointees based on the facts adduced before such entities? We vividly recall how the President has undermined a number of probes even before they would conclude their work. Examples of the President's infamous misconduct include his prejudicial statements clearing his Ministers appearing before a bi-partisan Parliamentary enquiry in the Cash for Seat scandal. No wonder since his intervention, his majority members in Parliament issued a majority report to align with the President's prejudicial intervention contrary to the facts unearthed. We also recall the President doing same on the Oslo Chancery affair even before Parliament would conclude its deliberations.
We have also not forgotten how the Office of the Special Prosecutor was undermined in the Charles Bissue galamsey case where efforts by the Special Prosecutor to get Ministers and the Presidency to back off and allow for only the Special Prosecutor to investigate proved futile with an eventual report of exoneration from the CID much to the chagrin of Anas Aremeyaw Anas and a disappointed nation.

I could go on and on with a litany of Executive interference and undermine. It is therefore disingenuous on the part of the President to play Pontius Pilate before the learned fraternity.

Never have the words of Socrates held so true: "Man know thyself." President Akufo-Addo must step out of his denial mode. He must stop this wild goose chase for opponents he believes are to blame.

Mr. President, charity must surely begin at home - please start with an introspection and with an honest look within your own administration, where even the scandal producing factories which have replaced 1D1F are begging to be given time off in order that they can catch some rest.

And finally, Mr. President; after pledging to Ghanaians you will protect the public purse only to deliver a Plundering Destructive Syndrome (PDS) - can the loquacious hollow rhetoric now give way to concrete action?

#GhanaBeyondCorruption