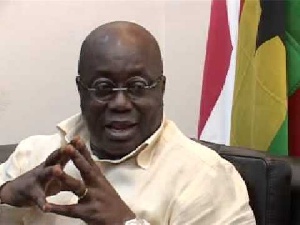 By Dr. Michael J.K. Bokor
Monday, Oct. 17, 2016

Folks, the only claim that seems to be working well for the NPP's Akufo-Addo in his campaign to have a third bite at the Presidential pie is that he is neither corrupt nor corruptible. He has trumpeted it all and left a trail for his buffs to hang on to as they project him as a saviour direly needed by Ghana in our time. They have cleverly portrayed him as such, citing instances of his not being caught up in any scandal on corruption ever since he shot into prominence as someone seeking to rule Ghana "at all costs". They are doing overtime as such.

Interestingly, happenings prove otherwise. Akufo-Addo might have succeeded in his private legal practice but not in public service. Under Kufuor when he held two portfolios, he left behind ugly traces that are constantly hurting him. Those who know what he did at the Ministry of Justice/Attorney-General's Department will easily cringe; so will those who know how he failed at the Ministry of Foreign Affairs.

Indeed, ex-President Kufuor was hugely relieved when he announced his ambition to step out on his own, which explains why Kufuor didn't hesitate seeing him off by removing him from his administration. The result? A total disaster for Akufo-Addo and the NPP establishment. Elections 2008 and 2012 will remain as the most painful losses for the Elephant family after Kufuor had wetted the ground for Akufo-Addo. Now that the ground has dried up, what does Akufo-Addo think he can do to undo the harm that her has caused himself and the NPP? Not on account of his being neither corrupt nor corruptible. Evidence doesn't support him.

We won't belabour the point. Find out, dear reader, why Paul Afoko and Kwabena Agyepong were kicked out. It was not because they were moles of President Mahama and his NDC but because they stood their grounds to confront the malpractices that Akufo-Addo had put his henchmen in positions in the NPP to perpetrate. For the records, let it be known that the financiers of the NPP got to know of how some of such Akufo-Addo puppets had siphoned into private accounts to the disadvantage of the NPP itself. What did Akufo-Addo do to solve the problem? Nothing but a collusion with the very perpetrators of that act to sideline the Afoko team.
And he has appointed them as his backers for Election 2016. Ken Ofori-Atta, the ailing Edward "Bumpty" Akufo-Addo, and peter Mac Manu are in the saddle to determine how the funds are controlled for Akufo-Addo's personal comfort. How he uses the funds is anybody's guess, especially given the frequent foreign trips that he undertakes which don't add anything to the party's coffers. A long story that they will tell one day.

Now comes the real issue to make us wonder whether Akufo-Addo is the man behind the mask or the mask hiding the real man. Only two instances, one from his own Akyem Abuakwa constituency and the other from the programme launched just last week to swindle the NBPP establishment. It is from their own stables, not mine or that of the NDC or any other politically antagonistic camp. Here we go, then.

A letter from the NPP council of elders in Akyem Abuakwa South constituency asked Akufo-Addo to come and explain a charge of embezzlement of his MP's common fund against him in 2006. (Source: https://www.facebook.com/photo.php?fbid=632663300247987&set=a.550168435164141.1073741827.100005129673005&type=3&theater). Nothing shows that he ever did so. No wonder his own people have ruled him out as a non-performer.

Then comes the clamour from the NPP camp against what Akufo-Addo has just initiated, which is condemned as a scam. Peter Mac Manu, Campaign Manager for Akufo-Addo's third term bid, has launched a new fundraising scheme for the NPP called "Adopt a Polling Station". Under the scheme, donors will channel funds for Akufo-Addo's campaigns into hubs other than what the NPP officially has with the Ghana Commercial Bank.

Some newly created multiple account numbers with the account name as "I AM FOR NANA FOUNDATION" are to replace that NPP account. Among the accounts mentioned by McManu are: Zenith Bank (with the account name as "I am for Nana Foundation" and account number 6010614929, Kojo Thompson Road Branch); MTN mobile money number 0548407629; and the use of Visa or Mastercard to make payments through the Web site of Akufo-Addo's own foundation "www.iamfornana.com/adopt". See http://ghanapoliticsonline.com/afoko-vindicated-akufo-addo-creating-multiple-bank-accounts-build-cash-foundation-expense-npps-main-bank-account/).
This manouevre has sparked a terrible controversy that Akufo-Addo's sudden escape to Germany and the UK on a private visit can't end. Neither will his recourse to his most favoured political strategy of "silence being golden" prevent from escalating into an internal storm in the NPP that will unsettle him, 3ven if he insists on maintaining a straight face.

Guess what? The storm has already begun brewing. Supporters and sympathizers of the party are questioning the motive behind this move by Akufo-Addo to source funds without passing through the legitimate party structures. They are embittered that Akufo-Addo is using his personal conduit ("I AM FOR NANA FOUNDATION") by ignoring the NPP's main account at the Ghana Commercial Bank which has branches nationwide, The new bank account for Akufo-Addo's foundation at Zenith Bank is inaccessible and not operated by elected or appointed party executives. What is happening here?

Again, the complaint is loud and clear that Akufo-Addo's scheme amounts to his owning of the polling stations to create the impression that it is a personal issue and not a party one. Indeed, the polling stations relate more to the NPP than to its Presidential candidate. Thus, by initiating this project. Akufo-Addo is seeking to undermine the NPP itself.

There is also concern about the (mis)conduct of Peter MacManu in his previous capacity as the NPP's National Chair, supported by evidence of his financial malfeasance. The question now is: Why would Akufo-Addo hand-pick him as his campaign manager for Election 2016? Some insiders are wary of what is at stake and think that Akufo-Addo and his handpicked party officials have a lot going on to fear. Is that the mark of an incorruptible leader?

Folks, we are good at monitoring happenings at the NPP front to know that there is more happening therein than meets the eyes.
One good point: Considering the frequent foreign trips being undertaken by Akufo-Addo (whether considered as private or for party business), is any NPP member questioning where the funding comes from? If it is from his personal coffers, fine; but it is not from there. He goes out on the ticket of the NPP, meaning that the cost has to be borne by the NPP. What exactly such frequent foreign visits yield to prop up the NPP is debatable. So, what at all is happening? Is the NPP larger than Akufo-Addo or the other way round? Their woe, not mine!!

Truth be told, though, what has unfolded so far doesn't tell me that Akufo-Addo is neither corrupt nor incorruptible. He is clearly established as a lost soul seeking redemption where none exists. Having mismanaged his father's assets and ensconced himself in the only one left at Nima, where he has installed himself as a Sheikh, there is every reason to conclude that he is on a wild goose chase for the Presidency. Can he just look within to see how he got Rebecca to be his wife? Corruption therein, folks!!

And he will be proved as such at the polls by his own followers who can read deeper meanings into his orchestrations and his bitter political opponents (including Dr. Paa Kwesi Nduom who worked with him under Kufuor, saw all his inadequacies, and is the first to belittle him in public discourse).

Final question, though. If Akufo-Addo were so clean, why isn't his campaign being supported by all those who had rallied to the camp of ex-President Kufuor or at Elections 20098 and 2012? Evidence exists that Akufo-Addo's campaign for Election 2016 is starved of funds because those who would gladly have provided that support aren't willing to do so for reasons best known to them. That explains why a desperate campaign such as "Adopt a Polling Station" will be launched to seek funds for a lost cause.

Let's pray that he returns "safe" from his private visit to Germany and the UK to answer the big questions waiting for him. That is, if he has the guts to tackle the bull by its horns. Knowing him for what he is, we are certain that he will run around the bull, looking for its tail to grab only to be headed down. Neither corrupt nor incorruptible; my big foot!!
I shall return…

• E-mail: mjbokor@yahoo.com

• Join me on Facebook at: http://www.facebook.com/mjkbokor to continue the conversation.