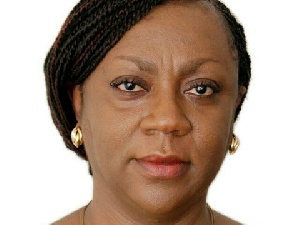 Valerie! Valerie!! Valerie!!! And I called you thrice, too! I am disgusted just discussing you! We were raised to understand that running women down was bad, but I will make an exception because you accepted to be stretching your legs like many suspected you did during the erstwhile administration of shame in which you served as a dishonourable Deputy Chief of Staff. I am not bemused at all about the collapse of our nation. At the time you were leg-stretching under JDM's rule, we should have expected the disaster Ghana turned out to be? The economy was channelled to pay twerking bottoms and fattened behinds. Was yours a specific case scenario?
I am only rebutting your garrulous nonsense because the undiscerned inconsistencies smacked of uninteresting foolishness. They actually make mockery of your father's flatulent strife to educate you. It is very normal for a human being to fumble. Have you forgotten your John Evans Atta-Mills? He had to be spoon fed the oath of presidency because he knew he was swearing a lie! And the many fumbling feats of your biological father when he would read a statement during the Rawlings days as he watched his back lest a lash came at him from the cane-wielding lesson-teaching Papa J?

That notwithstanding, let me tell you about the Wa water project that was started by His Excellency J.A Kufuor, dumped and neglected by the NDC, and resurrected and inaugurated by Akufo-Addo.

You see, what you are in constant denial of is your compounded ignorance and chronic blindness. After five years of NDC incompetence, John Mahama was advised to continue the project for propaganda purposes. Of course, lackadaisically, as usual, he started to move a few blocks about, opening the opportunity for millions of Ghana cedis to leak into some pockets. That was an opportunity to steal, which had escaped him. Normally, he would start something, and leave it mid-way. This case was no different! He took up the continuation of the Wa water project and left it shortly after all the money got stolen.

Do your homework well, and you will know that the agitation of the people of Wa over this was not unfounded at all. That was one of the many reasons your NDC lost five seats in the Upper West Region, fantastically!

Do you remember the Bui Hydro-Electric Dam that President J.A Kufuor started? It was abandoned for the same period, approximately, while Asiedu Nketia started a whole cement works business to supply the project. When John Mahama prematurely ejaculated in his whimsical daydream, he inaugurated the Bui Dam as an achievement, taking credit for it. No sooner did he push the button to light up than phweep, the electricity went dead! Shame!!

The many rumours that I have heard about you sniffing cocaine might be true after all because your recent media orgasms point to same. Again, you stretched your legs, hopefully, it stopped right there, and realised that there might be a missing piece in the digital address system rolled out by Dr Mahamudu Bawumia. So you ignorantly wagged your tail, thinking that you had struck a jackpot. Did you say you were sitting on your patio? How much of Ghana's money went into tiling and fixing it comfortably enough to enable you stretch on it and do your "la reve" dance? Oh, John Mahama! Oh Oh, John Mahama!! Oh Oh Oh John Mahama!!! What have ye reduced thy nation to?
Anyway, let me explain about the digital address system. You see, the announcement was that it cost a certain amount. Of course it would, after all, nothing is free. We pay real prices for real services, you know, unlike the purchase of hundreds of bicycles at GH¢ 15,000 (fifteen thousand Ghana cedis) per bicycle by your wicked government of NDC thieves. So the amount paid for the digital address system was the sum of various components of which the $400,000 (four hundred thousand US Dollars) google fee was one. This project brings Ghana a lot of convenience, unlike the Bus Branding Saga for which you paid one million dollars to post pictures of former presidents, some of whom were thieves anyway!

Then you seem to want to claim this system as a John Mahama baby. Look here, thieves like Okoe Vanderpuije, who was alleged to have stolen 720 million US Dollars given to the NDC government in 2012 for the Accra Drainage project, which ultimately resulted in the worst disaster Ghana had ever seen at Circle, did the shoddiest job with the street naming exercise. That was a financial loss to the State in the millions of cedis. 10th street, 11th street, 18th street, 22nd street, those were the kind of names given to streets in Accra! Are we in 'Ameluka' (Lordina Mahama's pronunciation of America)? It was a total disgrace and a neglect of the ancestors of the land who should have been honoured with that exercise. 'Nyame b3 tua mo ka baako baako baako'!

With new revelations about how Opuni allowed the NDC mafia to steal over $400 million dollars in a last-minute frenzy after losing the 2016 elections and much more recent discoveries of rot including illegalities like building an ultramodern guesthouse for John Mahama with State money, 'y3b3 toto wo tes3 akonf3m afa yahaya'!

By the way what is the name of the smuggling syndicate I hear you operate? The diversion of transit goods that never make it out of our borders? With regards to the army worm issue, we shall do you logoligi wate!

#WoahonoAmane