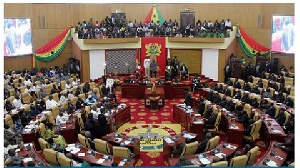 Being an 'Honourable' is a very reputable and deserving title in many countries and Ghana is not an exception. The title in Ghana is chocked by assembly members, DCEs, MPs and ministers which shows their rank in building our dear mother Ghana.
Many a time when I hear the title, my heart gets filled with ease as we have this calibre of people driving our vision to a common destination. However, my conscience sets me no free when I remember the religious or moral meaning of being Honourable. Per my knowledge, being Honourable is far from the kind of Honourables we have for this generations.

We now have honourables of claims which have no tap root to hold water. It is clear that in Ghana one honourable paint the other black to be called an honourable. If memories will serve me right, many claims were raised against honourables of the then ruling NDC in the heat up to our historic election in 2016. I was not surprised when these claims yielded positive results for those who made them and this landed them honourable titles.

In the same vein as the mantle of Ghana at work being entrusted in the hands of the well-webbed basket that drops no coin of Ghana to the floor for any dubious pickups, many are those perceived to be extravagant are seen raising hands and pointing fingers to get them corrected or dammed.

In fact, the current Hon. Minister for Communication and Minister for Gender, Children and Social Protection defamed the immediate past president on corruption and bad mind set to get hold of those titles. Not long after winning from making claims, the same people are seen still attacking people they share blood with to an extend of pointing the same fingers used against those they perceived as irresponsible and worthless in development.

It is clear that no man is perfect and what you see as right may be opposite in the senses of another person. When aspiring honourables of our current government were vetted, claims were made against some of them but their sole bid was the majority they housed which was clearly set on the grounds of cross examination.
Are we now saying the corrupt man has a corrupt mind with corrupt eyes that cannot see corrupt people? The biggest question, but we leave it for the reservoir of knowledge to digest for the growth of our mother land.

Just this week, voices were raised high against a person who should have held his integrity as an Ambassador to South Africa for openly saying his party affiliates are the Ghanaians that deserve jobs in their time. So what do we say about the floating voter.

It shows that we must be painted with the heavier elephant colours or wear the birded-umbrella colours to serve mother Ghana. I am not surprised Ghana is a 'stagnant water that dries up when the rains stop'. It is about time we get people who can help fill the ponds during the dry seasons. The rains are tired of our continuous uptake and inelastic bounce backs that reflects the true worth of the Ghanaian. Those that echo the voices and seek actions are seen as thorns in the flesh of the 'claimed good' men and they are said to be in the files of search that needs approval to change their social status, the Honourable Saga.

I only say hmm… when I think of the effort of our honourable title holders. Really, they deserve it and must be called just by that. The people, resources and the nation are in their hands going through series of manipulations. The hard time question that pops up my mind is that 'are they doing their manipulations honourably?'.

Many will have to laugh and nod upon this rhetorical question. The truth is in their hearts, they will never say it, the resources are at their disposal, they will never utilize them rightly and the people are all over them, surely they will never develop them.
Many times, the title is used for protocols, quotas and winning dubious contracts. The people who are susceptible to these men of trust are seen as simple and easy to be convinced by party T-shirts, branded sandals, headgears, bangles, stickers and other non-life changing valuables. The One District One Factory, One Village One Dam, One Constituency One billion Ghana cedis and District Common Funds projects and social interventions are tagged with the honourables' quota.

It is time our honourables read history and bring Nkrumah back to change the fortunes of Ghana. It is time we make history by making Ghana a home for many not only refugees. It is time we match biblically honourable to the title we chock all day long.

Ghana, mine home, your home and the home of great people. Let us rise to keep her rising.