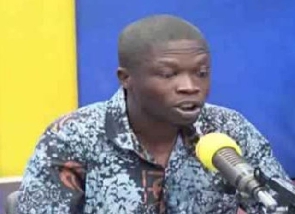 For the first time in history, l am obliged to tip my hat to the District Chief Executive of Kumawu Sekyere District, Mr Samuel Addai Agyekum.
He has made me proud, although he has most often been historically a pathetic sycophant, saboteur, loquacious individual, and a disgusting schemer.

From the video below, l admire his boldness in defence of the poor farmers in the district that have been treated very wickedly by a foreign company

and its local agents.

Both the DCE and the Besoro assemblyman have made me proud with their actions taken to ensure that the farmers are not further mistreated or threatened in their own land to impoverish them and their families.

Such is the quality of character expected of our leaders and almost all ordinary Ghanaians.

If we had collectively shown this type of boldness in the face of the Asante overlord dubiously meddling in the Kumawu chieftaincy dispute for his selfish parochial interests, Kumawu would have been a better place by now.
I am very much aware of the diabolic role played by same DCE to facilitate the chances of the above-mentioned traditional overlord to alter the history of Kumawu to exploit us.

Nevertheless, l am today not going to drag him to the cleaners but to sing his praises for solidarising with the farmers, the breadwinners of their families, and the providers of food for the nation.

I expect more of such credible moves from the DCE and all those in higher positions entrusted with the welfare, safety, and security of the people and the country.

Don't allow foreigners to abuse us, taking us for fools in our own land.

Once again, l say, bravo to the DCE.