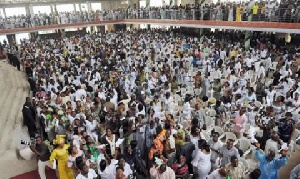 he controversy surrounding the payment of tithes rages on with those for and those against giving good arguments for paying or not paying.
I'll sit on the fence here: the payment of tithes is mentioned in the Bible, as a levy for the upkeep of the church and the clergy, but again so many other things are mentioned that require equal attention like learning how to read and live in accordance to the words of the Bible and not just collecting money.

Some will argue that the payment of tithes is mandatory. Yes and so are a lot of other things in the Bible like keeping the Ten Commandments! People can't just pick and choose what they want from the Scriptures.

As Christians it's strange that only the issue of paying tithes should take centre stage in Nigeria with even some revered pastors demanding it: if only they put the same energy into speaking out against slavery in certain parts of Africa, cultism and ritual killings and other ills of society the world will be a better place. This is what a real pastor does instead of throwing tantrums over what or what not is paid into the church coffers.

It's a fundamental fact of life that we give something back – not just to the church – but to our society, our families and the world as a whole so paying tithes ( I prefer to call it 'contributions' or 'offerings') for the upkeep of the church ( - and not the pastors' bank account!) is necessary. Again the amount to be paid and the frequency should be at the discretion of the individual paying: it's between him or her and God on what's to be paid and when and not somebody running around asking for bank details!

This is where what I'll call unscrupulous 'businessmen' pastors come in: they purposely set-up churches for financial gain demanding tithes from their members. I'll use the word 'demand' because that is what they do: if a person is unable to pay his tithes for one reason or another ( - especially with the recession on) instead of calling him out ,while not leave him until he is able to – some people go hungry so they don't miss out on paying their tithes, this is wrong!

Again these pastors encourage people to tithe more money to the church so that they can get more blessings from God – that is to say that God is so desperate for Our Money before he grants us any requests! If this were true then Bill Gates will be able to walk on water!
What is wrong here is not the payment of tithes but the manner in which it is collected and later disbursed – often to pay a Pastors' fat salary or fund his lavish lifestyle – that is the problem.

Money and religion don't mix: clergymen should hands off tithes collection or any mention of it and concentrate more on being pastors.

Perhaps there needs to be more transparency here. In a more civilized existence, church accounts will be audited and published periodically so that the congregation can see how their tithes are being spent. So it won't be the case of one man sitting on all the money and him deciding how he will spend it.

And lastly, there are a lot of things going on in the world today that urgently requires the attention of the Christian Church and the petty squabbling over the collection of tithes is not one of them.

Follow me on Twitter: @Archangel641 or visit http://www.archangel641.blogspot.co.uk