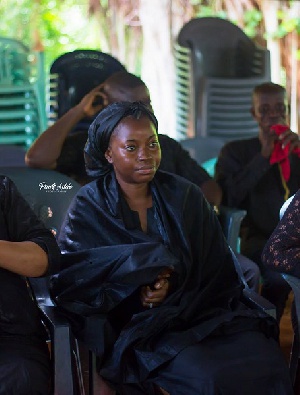 Watching Barbara Mahama, the wife of the slain military officer on television, I was broken with emotion. At 27 years, young, beautiful and unassuming, this damsel will carry the pain in her heart for quite a long time but life must go on. For now, she will continue to wet her pillow with tears and feel like ending it all because she has lost a jewel and she may be wondering whether life is worth living. Sad!
The lady is courageous enough to read her tribute to her slain hero. Even the father of the late Major Mahama, a retired military officer could not hold his tears and had to abandon reading his tribute to his fallen son. For now, Barbara is enchained with sorrow but what she should be told is that grief recedes with time and grace. Great harm has been done to Barbara, her sons and of course Ghanaians. Collectively we have suffered a great loss. And in her grief and anger, Barbara must find her moment as soon as possible so that she will have time to look after the boys. After all, one cannot continue to cry over spilled milk.

When I first heard of the brutal killing of the young officer, it seemed to me a night had fallen on a different world. Those who are closer to Barbara should join her in prayer every day so that she will be comforted. Prayers will help comfort and strengthen her for the journey ahead. After all, that has happened, all the possibilities and hopes that died with the death of the young man, it is natural for Barbara to feel bitter but it is only God who will wipe her tears and give her the courage to move forward and smile again.

Our law courts should also do their best to expedite the trial of the suspects since justice delayed is justice denied. If the suspects go through trial and found guilty and punished accordingly, Barbara will take consolation. When some of them who would be found culpable are condemned to death, Barbara will at least be happy that justice has been brought to those who callously murdered her husband. For now, the police have done a yeoman's job by quickly rounding up the suspects.
The military too acted quickly and decisively when they stormed Denkyira Obuasi to teach the people there a lesson worth learning. Yes, I agree some of the people drilled may be innocent but that is the price to pay when you live in a town and look unconcerned while people play the buffoonery. It is after the murder of Major Mahama that stories started doing the rounds that the people of Denkyira Obuasi are noted for lynching people. It was alleged that some time ago, the same people of Denkyira Obuasi beheaded their queen mother like the way the ISIS behead their victims. Just take time to look at the faces of the women of Denkyira Obuase who are suspected of taking part in the barbaric lynching of the officer and you will be angrier

The President, Nana Akufo Addo and the military authority have agreed to erect a monument in honour of the fallen soldier and that too will go a long way to sooth the pain of Barbara. It will also go a long way to remind Ghanaians that once upon a time a young promising military officer was assigned to fight galamsey but sadly, he ended up being brutally murdered by the same galamsey criminals. And anytime Ghanaians see the statue, we will be reminded of the fight against galamsey and see these miscreants as criminals and nation wreckers. Barbara should take consolation from the statue because apart from General Kotoka who has his statue erected at the Kotoka International Airport, no serving or retired soldier has his or her statue erected anywhere in Ghana (I stand to be corrected).

When Barbara chose to marry the late Major Mahama, she might be aware of the peril of the job that her would be husband was exposed to but frankly, she might not have envisaged that her husband will die the way he did. If the late Major Mahama had died at the war front, I believe Barbara would not have been in such a pain. That is why Ghanaians should see the circumstances that led to the death of the fine gentleman as a declaration of war on galamsey. From this day onwards, it is the galamseyers or we the good people of Ghana. And you know what? Everything is fair in time of war. Soldiers who would be assigned to fight galamseyers should shoot at sight. After all, no one can say enough notice has not been given for them to abandon the practice. In other words, galamseyers should be treated like armed robbers. If we do that, we would be mending the broken heart of Barbara. If we kill one hundred galamseyers and our environment and river bodies are saved, so be it.