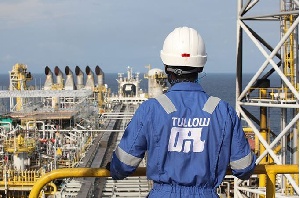 Mr. Paul McDade, CEO of Tullow Oil PLC, has disclosed they are in the final stages of the Turret Remediation Project at the Jubilee field and expect to rotate the FPSO Kwame Nkrumah into its final position by the end of the year.
Operations at Jubilee have been halted, since Monday, May 28 to enable remediation works to be carried out on the turret of the floating production, storage and offloading vessel.

He said following the ITLOS ruling in 2017 and the approval of the Greater Jubilee Field Development Plan, the company is now focusing on growing its production in Ghana, adding that the rising price of oil has enabled Tullow to reduce its overall debt by around a third.

To achieve this, McDade said Tullow has mobilized the Maersk Venture rig, which commenced drilling earlier this year.

''Two wells have already been drilled and a third is ongoing. Production from the first well, located on the TEN field, is expected to commence in the second half of the year,'' he noted.

McDade revealed that a second rig is currently being considered by the field operating partners to further accelerate production and cash flow.

The partnership expects to pump over US$500 million in fresh investments into their operations in Ghana this year.
Prior to the suspension of operations at Jubilee, the company recorded production of 96,000 boed for both oil and associated gas from the field.

Tullow generated a cash flow of over US$500 million in 2017, from operations on its two fields, with the second, the TEN (Tweneboa, Enyenra , Ntomme) field producing 60,000 boed.

McDade said the Tullow Group has developed an attractive three-year global exploration campaign, which will include opportunities in Ghana, Cote d'Ivoire, Namibia, Mauritania, Guyana and Suriname.

Mr. Kweku Awotwi, Managing Director, Tullow Ghana reiterated the company's decision to deploy more rigs, explaining this is to enable stable production of oil and gas to support uninterrupted domestic power generation.

He explained further ''a second rig just gives us more opportunities to drill more wells, so basically, the significance of that to the company is to make up for the lost time on the ITLOS ruling.''