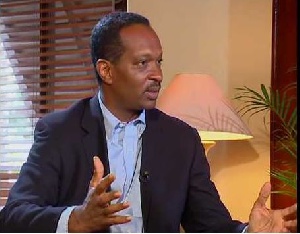 With improving efficiency and optimisation of operations, Tullow Oil has said it is looking to produce 180,000bpd by the end of this year.
"With the TEN FPSO on stream, we are seeing a 170,000bpd and we expect to end the year at 180,000 and that has a lot more to do with improving efficiency on the FPSOs themselves and fixing problems we initially had," Kweku Awotwi, Managing Director of Tullow Ghana, said.

Speaking on the floor of the Ghana Stock Exchange as the company took its turn at "facts behind the figures" for the first half of 2018, Mr. Awotwi noted that the company is constantly finding out how to maximise and optimise operations whether oil prices are US$50 or US$70 per barrel.

Mr. Awotwi added that the company is very interested in participating in the recently launched oil and gas licensing round which allows the government to transparently invite, negotiate and enter into petroleum agreements with companies.

"Tullow was represented by myself and other senior members of the executive team. There are five or six blocks being made available and we are just looking to see what kind of partnerships we will form to participate in the bidding round. We are very excited about it," he added.

He noted that with Tullow already on the ground, the company has the infrastructure in place and well suited to bring any production or reserves identified very quickly on stream.
"If you are a new company, you have to build that infrastructure from the ground and that will take you a number of years whereas you can bring it on stream very quickly because of Tullow," he added.

Les Wood, the company's Chief Financial Officer, in his presentation, noted that Tullow has performed strongly in 2018 by delivering solid production and generating material free cash flow.

From a loss position of US$348million in the first half of 2017, the company made a profit of US$55million after increasing its revenues from US$788million in the first half of 2017 to US$905million in the first half of 2018.

"We made a modest profit in the first half. This has been impacted by the court case and arbitration related to Seadrill. The provision we have made resulted in a pre-tax income statement charge. Capex remains within our guidance range of US$460million for the full year, so with US$145million spent in the first half, it is clear that capex is weighted to the second half," he said.

Looking ahead, Mr. Wood noted that with strengthened oil price and with no real inflation in service cost, the company expects to spend similar or slightly higher levels of capex in 2019 as it considers drilling in Ghana, investment to sustain non-operated portfolios and a modest step up in exploration drilling.
He noted that the overall objective across both fields is to maximise and sustain plateau production. "We need to drill enough wells to fill both FPSOs to their maximum capacity, and then sustain this. We see huge potential to grow and sustain Ghana as the core of our long-term cash generation," he said.

Touching on payment of dividends, Mr. Wood assured that it is currently a live discussion at the board and the company is examining ways to return value to shareholders now that it is generating substantial free cash flow.

"It will be wrong for me to make any prediction or promises but I can say that your board is keen to pay a dividend and it will very much be a live part of our discussion as we move into 2019."