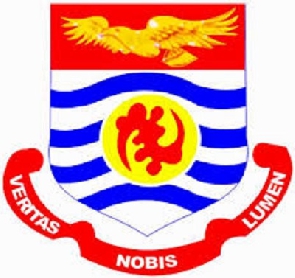 UCC needs a female S.R.C president now. The University of Cape Coast, which co-extends with the Ghanaian society, for the records has never experienced a female leadership as paramount head of the student body. The Ghanaian society has been characterized with male chauvinism which is evident in our school SRC leadership and even the country as a whole.
We are all aware of the recent bullying of Hon. Samia Yaba Nkrumah when she contested for the flagbearership position of the Convention Peoples Party. We are also aware of the current speculations and accusations on the current Electoral Commission boss, Mrs. Charlotte Osei. It has almost become a norm in our society that as far as one is a woman, the room for certain key positions should not be opened to her, even if you are competent enough to handle it better than a male. It has become a tradition that somehow females in UCC only deserve an appointed Vice Presidential position, secretary positions, and other female designated positions.

I was very excited and proud when University of Ghana broke from the shackles of this primitive thinking. UCC is yet to experience a revolution from this harrowing thought, and am confident that our intellectual students are ready to break from this dogma, as Ghana's premier school has set the pace already.

I sincerely would have thought twice about writing this piece if our male leaders have over the years been productive and epitome of good leadership. On the contrary, there have always been speculations of corruption, embezzlements of funds, and all sorts of unacceptable social traits attached to male presidential leadership of our S.R.C. The heart of a woman as leader towards her children is always more caring than that of a man. We can testify this with our parents in our immediate homes.

History teaches us that female leaders have never compromised their leadership for anything. Mbuya Nehanda of ancient Zimbabwe was killed by the Portuguese when she fought and refused to surrender to them. On the other hand, Nana Prempeh, the Asantehene, surrendered and bowed to the British governor, in fact, Yaa Asantewaa stood up and fought the British when males were afraid to lead this moral cause.

This proves, males most of the time, compromise. Queen Nzinga, who was a queen of the Ndongo kingdom in modern day Zimbabwe stood firm, fought and defeated the Portuguese. Winnie Nomzamo Mandela also stood uncompromisingly in the fight against apartheid in South Africa, when her own husband, Nelson Mandela divorced her and betrayed the fight against apartheid in exchange for the presidency of South Africa.
Female leaders are always persistent in their struggle for justice, equality and righteousness. I have no intension to push a feminist line, am doing this for the sake of equality and the chance to allow women expunge their potentials, and contribute their quota to the development of the SRC of our school.

University of Cape Coast is about fifty –five years old and we cannot boast of a single female S.R.C. president. Two questions unfold in my mind: are we trying to tell ourselves no female is capable of leading the student body, or are we consciously discriminating and preventing females the mandate to lead our student body? I know every sound mind will provide negative answers to these two questions. It is good and enough that our males have played their quota for the past fifty-five years. It is time we open the way for our females to play their part in the spirit of gender equality and balance, which we are all advocate for.

This is a noble call to our female leaders, female organizations, individuals, all students on campus and all external stakeholders who believe in gender equality and potentials of females to rally unceasingly to push for a female leader to the high office of the S. R.C president for all of us to see the capabilities of women. Osagyefo Dr. Kwame Nkrumah wrote, the level of a country's revolutionary awareness is measured on the political maturity of its women.

Wilhelmina Nettey-Dodd; Student, University of Cape Coast.