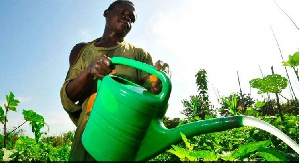 In a week just gone past, our one and only Busumuru President of the whole wide world was advising that our public policy and action should be directed to ensure WFE (Water, Food and Energy) security for all.
The President of the Republic was talking and walking industrialisation, job creation and education for all.

My humble self, I was thinking and wishing no noise, no plastics and sidewalk for all. For years, I have wished for no noise making to deny your neighbour rest and sleep in praise of God. I have wished all-nighters their kind would reason or be told or directed by their preacher leaders that nuisance noise by a mortal never secures heavenly visa because it violates Christ's love thy neighbour edict.

My neighbours and I are constantly tortured by Christ Apostolic Church and others in our neighbourhood.

My frontage is littered with plastic which collect into the gutter for me to hire labour to clean. And the street sides are littered with kiosks and containers that block pedestrian sidewalk access, and thus endanger motorist and pedestrian lives.

I am doubtful any 'Y? dede' (make the loudest of noise) preacherperson who conducts an 'all night' to deprive of sleep will ever receive a visa to heaven because the action flouts Christ's 'love thy neighbour as thyself rule.'
It must be a mystery preacherpeople fail to realise those who invented the equipment they preacherpeople use to make their noise NEVER noise abuse neighbourhoods with their invented loudspeakers and amplifiers.

There is this vendor of foodstuffs who thinks the illegal place she is occupying is not enough and that she needs to stretch her vending area to sit a table on the gutter so that everyone has to walk on the street.

As if her pedestrian abuse is not enough, taxi drivers have established a station in front of her kiosk. So pedestrians are FORCED to walk on the street.

Another food vendor has built her structure on a hub for the neighbourhood underground water pipelines. One of the pipes is leaking.

When I drew the attention of the Ghana Water man for repairs to stop the leakage, he looked at the situation, cast his eyes at the aluminium kiosk, and all he could say was: 'We would come back and fix it.' He, or anyone else from Ghana Water, is yet to show up.
Ask me what he who has caused huge losses of our money had to say in that week.

He seemed to have gone dozing over the rot he presided over. Or, maybe, he thinks because we have short memory we have forgotten their (his and his appointees) misdeeds. He thinks no one is taking notice of the nauseating bus branding, tricycle procuring bungling, trotro ambulances and $81 million software purchase.

He sounds like no one is paying attention to all the other rotten public procurement transactions he and his people created, looted and chopped chopped. Someone may want to advise him to keep quiet. Those busy sorting his mess out need him to be quiet to be spared any distracting din.

The incumbent and his team deserve peace and quiet time to clean his mess to develop the economic mechanisms that would leapfrog the motherland into the class of first world motherlands.

Characteristic of him, though, he may choose to dance to 'Y?ntie obiara' and continue with the ugly noisemaking.
Asomasi's noisy contribution to public discourse that week targeted his congresspeople kin he accused and labelled as opportunists. .

He, however, wouldn't stop there. Shamelessly, he had the guts to complain a doer president is engaging in propaganda without addressing the challenge or rot he Asomasi has bequeathed.

Above all, you will not believe it, but my compatriots, the most unpatriotic leader of the motherland of all time actually accused you and I of being unpatriotic.

He might have received some sympathy if he had restricted that to the congress fold.

Please, someone please, tell him that if he doesn't know, one of the greatest joys of kicking him out of office is the feeling of relief by my compatriots. It is like a very, very heavy load has been lifted off people's shoulders.
The revelation upon revelation of the rot he presided over is moderated by the actioning Nana Addo who seems so determined to do good that we, the critics, are finding it difficult to track down possible rot.

It is a big struggle for congresspeople, who all of a sudden find themselves out of reach of cheap create, loot and share schemes.

Pity they think noisily demonising someone's implementation of free SHS, industrialisation and job creation will restore their public money stealing opportunities not unlike preacherpeople and their noisemaker flock will not see heaven by torturing their neighbourhoods with noise.