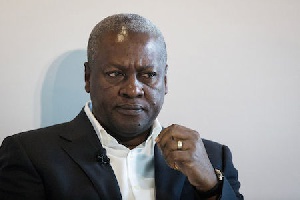 By K. Badu
As a matter of fact, a fantastically corrupt public servant is no less a human rights violator than the enigmatic Adolf Hitler.

For, whereas Adolf Hitler savagely exterminated innocent people with lethal chemicals and sophisticated weapons, a contemporary corrupt public servant is blissfully bent on annihilating innocent citizens through wanton corruption.

Consequently, the innocent citizens would often end up experiencing economic hardships, starvation, depression, emotional labour and squalor which send them to their early grave.

"Corruption is an insidious plague that has a wide range of corrosive effects on societies. It undermines democracy and the rule of law, leads to violations of human rights, distorts markets, erodes the quality of life and allows organized crime, terrorism and other threats to human security to flourish" (UN 2003).

In spite of the fact that corruption is a serious economic, social, political and moral impediment to the nation building, our corrupt officials are bent on siphoning our scarce resources without a brink.

Yet, our shameless leaders would have the audacity to blame their Western counterparts for the sufferings they have deliberately brought upon their subordinates.
Ironically, when a section of our fed-up brothers and sisters opt to seek greener pastures in Europe through the high seas and perish their lives, our corrupt leaders would then turn round and blame the Western leaders for not donating more of their hard earned wealth. Isn't it pathetic? Yes, it is ruthful, so to speak.

The fact of the matter is that corruption is more often than not slows down a nation's development. Besides, corruption has become an ecumenical phenomenon in scope, substance and consequences.

Apparently, this evil phenomenon is found in all countries—big and small, rich and poor—but it is in the developing world that its effects are most destructive.

Corruption hurts the poor disproportionately by diverting funds intended for development, undermining a Government's ability to provide basic services, feeding inequality and injustice and discouraging foreign aid and investment.

Corruption is a key element in economic underperformance and a major obstacle to poverty alleviation and development (UN 2003).

Thus, it came as no surprise when the international community came together and adopted the UN Convention against Corruption in 2003, and followed it up with its implementation in 2005.
"In its resolution 55/61 of 4 December 2000, the General Assembly recognized that an effective international legal instrument against corruption, independent of the United Nations Convention against Transnational Organized Crime (resolution 55/25, annex I) was desirable and decided to establish an ad hoc committee for the negotiation of such an instrument in Vienna at the headquarters of the United Nations Office on Drugs and Crime".

The 2005 UN Convention against Corruption encapsulates: "Countries are obligated to take anti-corruption measures in public and private sectors. These can include establishing anti-corruption bodies and enhancing transparency in political financing.

"States must take measures to ensure public services are subject to safeguards that promote transparency, efficiency and merit-based recruitment. Public servants should be subject to codes of conduct, financial disclosures and disciplinary measures.

"Transparency and accountability in public finance must be promoted, and specific anti-corruption requirements, especially in the judiciary and in public procurement, must be established.

"Countries are called to promote the involvement of civil society, to promote awareness of corruption and to promote practices aimed at preventing corruption.

"Countries are required to establish a wide range of criminal offences, including basic forms of corruption (like bribery and embezzlement), trading in influence and the concealment and laundering of the proceeds of corruption."
Apparently, the UN Convention against Corruption is the first meaningful universal instrument enacted to prevent and combat corruption with a view to networking and thereby building on a broad international consensus.

In fact, one of the most relevant provisions of the UN Convention against Corruption is the procurement clause which most countries have given meaning in their national laws, including Ghana.

If anything at all, we must all extol former President Kufuor and his NPP government for signing the all-important UN Convention against Corruption on 9th December 2004 and ratifying on 27th June 2007.

More importantly, former President Kufuor took pragmatic steps and transposed some of the relevant provisions of the UN Convention against Corruption into our national law.

All the same, the crucial question is: has President Mahama been able to fulfil Ghana's obligations under the 1969 Vienna Law of Treaties following the ratification of the UN Convention against Corruption?

Disappointingly, however, Ghana's ratification of the UN Convention against Corruption did not dissuade President Mahama and his NDC government from indulging in gargantuan sleaze and corruptions.
In recent years, President Mahama has been under the radar for numerous bribery and corruption allegations, inter alia, 'the furtive gift (the Ford Expedition)by the Burkinabe Contractor Djabril Kanazoe; the Embraer 190 scandal; Armajaro; Mabey and Johnson; SADA; SUBA Info Solutions scandal' and many others.

Sadly, however, President Mahama and his NDC apparatchiks are bent on embezzling Ghana's resources to the detriment of the poor. How bizarre?

Apparently, President Mahama and his NDC government corrupt practices have resulted in excessive public spending, less efficient tax system , needless high public deficit and destabilization of national budgets, heightened capital flight and the creation of perverse incentives that stimulate income-seeking rather than productive activities ('create, loot and share'-apologies to JSC Dotse).