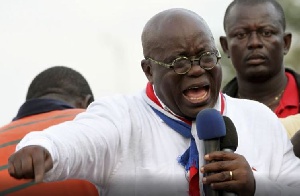 By Justice Sarpong
The President-elect of our dear country, His Excellency Nana Addo Dankwa Akuffo Addo has assured the harum-scarum NDC party members that he will not witch hunt any member of the annihilated party and the Mahama government and that is in the right order. Witch hunting is not what we need. What is the meaning of witch hunt? Webster dictionary defines witch hunt as

1. a searching out for persecution of persons accused of witchcraft

2.the searching out and deliberate harassment of those (as political opponents) with unpopular views.

What his Excellency Nana Akuffo Addo meant is that, he will not harass anybody in NDC who have not stolen from Ghanaian Taxpayers. His Excellency Nana Akuffo Addo is not a tyro when it comes to governance so he will do things according to the laws of Ghana and will definitely do "WIZARD HUNT"

Folks, "wizard hunt" is a new term from me meaning, going after real thieves in the Mahama administration and the Ndc Party that have stolen billions of dollars through contract manipulated figures, sole sourcing contracts that inflated the cost of projects like the Burkina Faso one million dollars wall over a parcel of land.
The incoming administration was voted into power partly because of the thrasonical behavior of people like Koku Anyidoho, Solomon Nkansah, Dr. Omane Boamah and others who behaved as if Ghana belong to them because of their ill-gooten wealth and it will be a travesty of justice if the incoming administration allow these people to walk away and enjoy their booties in peace.

The Mahama government was embroiled in so many financial scandals the incoming government needs to set up a special Prosecutors offices in every region to deal with the unprecedented stealing that went on in that government because leaving that work for the Ministry of Justice and Attorney General's office will bog down the function of that Ministry.

The mansuetude of our religious love should not be a basis to allow criminals who deprived the poor in our society of what is theirs due to their kleptomanic nature to go free.

How can we justify to generation unborn how we allowed Woyome to walk away with about twenty million dollars($25million) because his party was in power?

How can we allow Asiedu Nketiah, the NDC General Secretary to insult our sensibilities by telling us a friend built their twenty million Party Headquarters but he will not tell Ghanaians who this friend is? What did the so called friend get for giving them a twenty million dollars gift in the form of the Party Office? Even billionaires don't throw their monies away like that let alone a phantom friend. We should investigate all these fraudulent deals.
It is only in Mahama government that when you steal and got caught, you the criminal decicides the payment method by arranging installmet payment plan of returning the money stolen. When Roger Agambire and others were caught stealing more than forty million dollars, instead of being prosecuted and the money retrieved, Mahama government decided not to prosecute him and others and instead arranged payment installment plan with them which in all probability they didn't pay.

Now this Roger Agambire who is President Mahama's business partner is domiciled in Dubai, United Arab Emirates and taking care of their properties in that country and Mahama will tell Ghanaians he was fighting corruption.

The same thing happened in the bus branding fraudulent deal by the Transportation Minister, Ativor who colluded with the girlfriend of the big Boss to dupe the country. Hopefully Ativor who advised her tribesmen to vote for Ndc to retain power for her to avoid prison has not crossed the border yet.

If Npp failed to pursue these criminals, there will be a catalysm in Ghana. This incoming government has an opportunity to weed out corruption in society by making it unprofitable by prosecuting all those found to have stolen money from the government and sending them to prison without any compassion. Our "FAMA NYAME" attitude should be locked up in the brain closet where it belongs or should be released sent out for permanent vacation outside Ghana.

(CARDINAL of TRUTH)