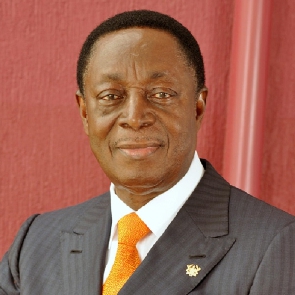 It is proverbially acknowledged that it does not belong to he who is leading to redirect their steps, thus, the person cutting the lane may not be able to tell when it has gotten crooked behind him.
That right of pointing out the mistake is reserved for those at the rear; those following him.

Based on the import of the adage, l will not hesitate to convey to the attention of Dr Kwabena Duffour, the Kumawu born NDC flag bearer aspirant, the following political strategy and correctional advice.

An unknown person, although one of my WhatsApp contacts, passed a text comment on my publication on why Dr Duffour's flagbearership campaign messages and interactions with his audiences are not heard on radio as much as those of his opponent John Dramani Mahama?

The person commented saying, forget about your brother Dr Kwabena Duffour for he is weak and docile.

I asked for a better clarification and he replied saying, his choice of Twi when interacting with the audience in Tamale infuriated most of them (Temale peope).
Not willing to go into the details, I will simply like to advise Dr Kwabena Duffour to communicate with his campaign audiences in the language that most of them understand if he, Dr Kwabena Duffour, understands their language. If he doesn't, he must speak English for it to be translated into their language by one of his campaign attendants or managers, if he has any.

Winning an election is about garnering the highest number of votes so how best you go about achieving that target is paramount.

You have to get your audience to understand you and also, have full assurance from, and confidence in, you.

Therefore, your choice of words, language used and your style of delivery of messages and promises are all vital tools to be employed, wisely of course.

Where is Yaw Boateng Gyan and how best is he helping Dr Kwabena Duffour to land the NDC flag bearer position?
All things being equal, l wouldn't expect Dr Kwabena Duffour to be telling bits of truths and lies here and there as it is the style of candidate John Dramani Mahama but the absolute politically strategical truths.

As it does not take much time for a good ear to hear and understand, l will end here by suggesting to Dr Kwabena Duffour to adopt campaign strategies that can at this stage win him the hearts and support of the majority of the NDC delegates.

Finally, he must be strong and well entrenched in his good manners and honest personable characteristics that make for a successful leader.

He must not appear to be weak, thus, liable to give way under pressure or amenable, easily submitting to the will of another.

As it has always been my innermost wish, l want to see a team of Kennedy Agyapong, Dr Kwabena Duffour, Dr Alhaji Mahammudu Bawumia and Dr George Akuffo Dampare rule Ghana.
Ghana should not be allowed to continue in the path of her state of abundance of, and abounding in, ruinous lawlessnesses detrimental to the security, safety and development of the people and the country hence calling for that perfect team.

We need a perfect combination of strict and more knowledgeable people to rule Ghana if we desire to see a prosperous Ghana and respected citizens of international recognition, hence suggesting the team just named above.

He who comes across this publication should please forward it to Dr Kwabena Duffour if he or she knows him and has his personal contact.