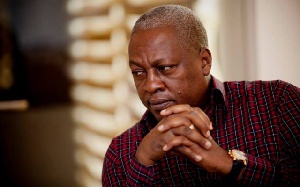 Can you believe what I saw last night? I saw the President carrying a placard with a red band around his head going on demonstration la ah!
What he was demonstrating against didn't come clear to me in the dream as there were some mosquitoes disturbing my sleep. You thought I was going to say they were biting me er. I don't feel mosquito bites oo because I am on a very good terms with them-especially when I am drunk!

In the dream, the President was demonstrating against EGC and filth in Accra.

In the case of the EGC, it was when I woke up that I realized my prepaid got finished and my ceiling fan stopped working. I also realized that flood water had entered my hall since I live in a chamber-and-hall apartment.

It was raining heavily and the gutter at my backyard was choked, hence the flooding in my room. The Prez had no motorcade and he was the only one doing it. H333r, I was shocked oo! Hmmm! Bra Panyin on the streets singing 'meni abre meni abre koorrrr'! I am awake now so I don't remember where the Prez ended his demonstration and who he gave his petition too. Your Excellency, greetings oo.

I took a look at my phone and saw a WhatsApp message from Dr Callistus Mahamaa, Local Government Institute who was my JCR President many years ago. He is the one I am referring to oo, ahan!
Enough of my dream ah! That is why 'I am get' angry with Rev. Steve Wengam sometimes oo. He doesn't pray for me again oo. Rev, peace be unto you oo. Haaa!

Chai, I am beginning to feel I am normal now but still not sure of myself. Otherwise, how on earth can I leave my soap in the bathroom and come to attack people who have nothing to do with it!

Lawyer, Yomi Kolindi, you dey? Fantastic inspirational lawyer you are. I am going to look for trouble by slapping somebody so that you will come and defend me in court. I know you are a fantastic lawyer par excellence. Next week will be the case. I will be slapping the person this week. I am sure he won't let me go scot-free. He is based in Ayerebi! Ajeeeei!

Anyway, when dealing with ladies, be careful oo as anything they say including false accusations, so long as 'ASSAULT' dey inside, you are finished. Don't throw your hand by heart oo or else you will regret it. Some of them are very good at provoking you and the slightest impatience can give you away, hmmm!

If I tell you my own story, you would be more cautious so I want you to experience it yourself too and call me so that I can also laugh at you.
Didn't I tell you I recently travelled abroad? Yea! Only God knows the abroad I am talking about. It just reminded me of August 2001 when I applied for a UK visa. At the interview, I was asked if I had travelled abroad before as this would give me an advantage in securing the visa. My answer was 'Yes'. 'Where'? and the answer was 'Togo'. Kai! The speed with which they bounced me er, you have no idea. But I think that was unfair.

Every abroad be abroad, no be so? HE John Benjiman, talk to your people oo, yooo! How then do I get travelling experience if you refuse to give me the opportunity?

Okay, in the hotel in which I lodged of course one can imagine a villager like me abroad and my behaviour. I did not go with toothpaste and even the chewing sticks I went with I could not find. What mattered most to me was my gari and groundnut. My mouth was stinking; it smelt worse than the smelliest part of the human body. Please don't ask me 'where?'. Is it for me to tell you this one too? Ah!

I looked around and was confused without knowing what to do. An idea came to mind. I saw a piece of soap in the bathroom. I had tooth brush. I managed to rub the brush on the soap and I sorted myself out. That's all! Problem solved. I wished what I saw was omo. I would been finer. All I needed was a clean set of 'useless' teeth. I was the best man in town dressed and looked like a complete dunce.

You won't believe this! When I returned to the hotel room later in the evening, the soap was nowhere to be found! Somebody 'thief' it la ah!
As unprepared as I was, I embarked on the trip with nothing. All I had were my clothes and underwear and of course my dried grains of cassava. Hope you were not expecting me to say gari.

I proceeded to the hotel attendants but had difficulty in asking them about the whereabouts of my soap; I didn't want to embarrass myself.

I went back to the room and when one of the cleaners came to my room, I confronted her about the whereabouts of my soap. That was when she told me about how I was captured on CCTV doing something funny with a tooth brush and soap and they thought the best way to prevent me from 'harming myself' was to hide it. I asked her to bring it to me since I wanted to take my bath, of course not to tell her I had another use for the soap – pasting!

So at this point won't you ask me what prevented me from buying the paste some when I went to town? Oh ! I can see you don't like my matter. I didn't want to waste my money on paste as I had only 3 days to return to Ghana; I wanted to protect my per diem. What? Why are you wondering how normal or otherwise I am? Is that your concern? Why why why? Everything you want to show concern, why?

This gal instead of looking for my soap for me, she was rather mopping my room and singing Telemor. I got angry and screamed at her. She ignored me and only asked me to be patient. Patient for what? I asked. I lost my temper and shoved her out of the room so I could look for the soap myself. I found the soap. To God be the glory.
Less than 30 minutes, just when I was preparing to leave the hotel room to go and drink biya, two policemen appeared. They were there to arrest me for assault. Ern? Arrest? Chai! Has it gotten to that? Assault? I quizzed. Yes, assault on the lady cleaner. Well they didn't harass me as expected; they picked me up in their van and before I knew it, I was behind bars 'gbagli', doors locked. Ei, ei, ei! I should have controlled my anger oo. I met some inmates in the cell who were in custody for various offences. That night, I couldn't sleep! The stench coming from assorted gas from these suspects was enough to feed the Atuabo gas plant! Ha!

I was bailed by someone I didn't know but the matter is still in court though I am back in Ghana. I thought this is a normal harmless touch to drive this lady out of my abode and this brought me trouble oo.

Me, to touch a lady again angrily, hmmm! Never again.

Did I hear Steven Keshi has kicked the bucket? My condole with his family.

Happy weekend as I bury my very fat friend Lucky Azasu (aka MC Flava of Efiewura fame) tomorrow but remember to WORK HARD UNTIL YOU NO LONGER NEED TO INTRODUCE YOURSELF!