Vodafone's speeding vehicle crashes policeman to death at police checkpoint CRIMENEWS By MyNewsGH Last Updated Jan 3, 2019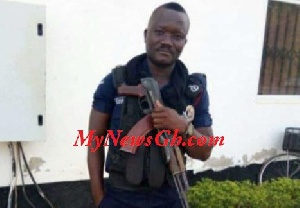 A speeding vehicle with registration AW 5859 -12 number painted in Vodafone colours and logo has knocked and killed Lance Corporal John Andoh of the Ghana Police Service stationed at Ejisu, MyNewsGh.com confirms.
The deceased cop according to police was on duty with other colleagues at Kubease snap checkpoint when the incident happened.

According to the account of the police, the deceased Lance Corporal and his colleagues had just closed from duty and he was carrying the barricades to a safe place but in the process, the pickup vehicle with Vodafone inscription suddenly tried overtaking the accident vehicle from the wrong lane.

The driver it is gathered lost control of the steering gear and veered off the road and crushed the policeman to death.
The driver of the Vodafone pickup which had a severe dent at the back stopped for a while and suddenly sped off but the suspect driver in charge AW 5859 – 12 has been arrested and is in police custody.

The body of the policeman has been deposited at Living Waters Hospital mortuary for preservation and further action.