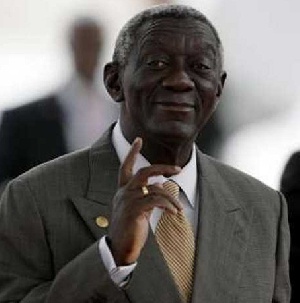 Of course, there is nothing wrong for political parties to have party precincts or strongholds, for such praxes are acceptable in even most advanced democracies.
The distinction, though, is unlike the voters in developing countries, the vast majority of voters in the developed countries do not vote for voting sake. In other words, voters in the advanced democracies mostly vote on the issues that affect their lives.

It was against that backdrop that the vast majority of the UK Labour Party supporters in Scotland rightly voted against their party in the 2015 general elections for failing to live up to their expectations.

We should not also lose sight of the fact that election is a social contract that exists between a candidate and a voter. In hindsight, the candidate solicits for votes in exchange of provision of relevant human needs.

It is also worth mentioning that our contemporary authority or government came into being as a result of the emergence of social contract. It was based on such agreement that President Mahama entered into contract with Ghanaians prior to the 2008 and 2012 general elections.

If you may recall, President Mahama besought the electorates to give him the mandate and in return, President Mahama guaranteed everyone protection of life, property, provision of social infrastructure and amenities, better socio-economic standards of living and to a certain extent liberty.
If you may also remember, prior to the 2008 and 2012 general elections, President Mahama and his NDC Party gave a slew of Manifesto promises, including one-time NHIS premium, free SHS, 'making dumsor a thing of the past, putting money in Ghanaians pocket, creating more jobs for the jobless, stabilising the economy, protecting Ghanaians from the menaces of galamsey and Fulani herdsmen, bringing an end to dubious judgement debt payments, fighting the rampant sleaze and corruption, working with 'lean' government etc.

I must, however, stress poignantly that we choose to exercise our democratic rights during elections in anticipation that our lives would be transformed positively. But then again, the all-important question is: have our lives been transformed positively under President Mahama and his NDC government?

No, the vast majority of Ghanaians have been worse off in terms of the socio-economic standards of living under President Mahama's administration as compared to Kufuor and the late Mills administrations. For, Mahama has been approaching his duty lackadaisically.

Succinctly put, President Mahama has disappointed the vast majority of Ghanaians, including the voters from NDC Party's 'World Bank'-Volta Region.

Unsurprisingly, however, some noble Chiefs from Volta Region have been complaining bitterly about the harsh economic conditions that the NDC government has willfully imposed on innocent Ghanaians, including their subordinates.
Ironically, with all his promises, President Mahama has failed to end the dumsor, jobs aren't readily available for the jobless, the economy is sinking deeper and deeper into the mire, he has reneged on his promise to keep 'lean' government, Ghanaians are becoming poorer and poorer, sleaze and corruption have escalated to immeasurable proportions, endless borrowings etc.

It is, therefore, worth emphasising that even though President Mahama and his NDC Party promised prior to the 2008 and 2012 general elections that they were going to put money in Ghanaians pockets, they egregiously turned their back on the electorates after clasping the ultimate power.

Consequently, the impoverished Ghanaians rightly queried President Mahama over his failed promise. President Mahama then bizarrely turns round and replies: 'there is no president on this planet (earth) that will physically put cash in people's pockets' (See: 'No president will put money in your pocket'-Mahama; atinkaonline.com/ghanaweb.com, 13/10/2016).

Dear reader, tell me, if this does not amount to dishonesty, what is it then? Since when did President Mahama and his NDC government realise that it's not the government that will put money in people's pockets?

Besides, President Mahama and his government failed abysmally to provide the youth of Ghana, including those in their 'World Bank' (Volta Region) the jobs they promised in their 2008and 2012 Manifestos. The youth wondered why. His Excellency President Mahama then shockingly retorts: 'where are your employable skills and qualifications? So don't you lots know that you lack the requisite employable skills and qualifications?
Ironically, however, when the good people of Ghana, including those in the NDC's 'World Bank' (Volta Region) decide to express their grievances over the never ending harsh economic conditions, President Mahama and his vociferous communicators would bizarrely retort: aren't we transforming lives by building roads, hospitals, schools, toilets, water facilities and many other social infrastructural projects?

It is, therefore, important to point out that although the late President Mills's tenure ended abruptly, he pragmatically started an all-important university in the NDC's stronghold-the Volta Region. That was laudable, so to speak.

It was also extremely admirable when former President Kufuor erected the Keta Sea Defence to ensure that the people of the Volta Region are safe from 'Tsunami' or seismic sea waves. It was indeed a well-thought through project, I must admit.

In fact, the vast majority of Ghanaians, including the people from the NDC's stronghold (Volta Region) have benefited immensely from President Kufuor and his NPP government's pragmatic introduction of the free Maternal Care, the School Feeding Programme, the National Health Insurance Scheme, the Mass Transport System, the Livelihood Empowerment Against Poverty (LEAP), the National Youth Employment Programme, now known as GYEDA, and many other social interventions.

My dearest reader, would you be sincere enough and name just a single social intervention that has been implemented by President Mahama's NDC government that prides itself as social democrat?
K. Badu, UK.