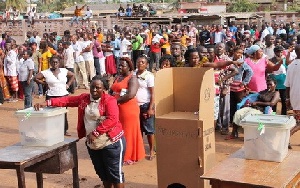 Prince Ofosu Sefah.
NPP Canada Branch Secretary

& Communications Team Member

Facebook.com/nppcanadaforreal

Dear Fellow Ghanaian;

As the elections draw closer and we get ready to vote, work, advance, protect our democracy and choose our next leader, I urge you to vote for the best character.
Many accomplished Advisors of world leaders, have mentioned character as a key factor in predicting who could be a great President.

Looking at the 2 key candidates likely to win the next Presidential Election, there is little doubt who has the best character.

Nana Akufo-Addo has a long history of proven integrity and incorruptibility. Indeed, some even in his own political tradition, are rumoured to be afraid of his abhorrence of corruption.

Furthermore, not only does Nana have the personal credibility, he has policies to reduce corruption and hold any corrupt officials to account.

For instance, Nana has promised to create and empower an independent special prosecutor, to protect the nation from and reduce the menace of corruption, without undue politicisation.
So, almost no objective mind doubts that Nana is going to effectively tackle the corruption menace.

He is also a great family man with a fantastic wife and 5 daughters. He is a devoted Christian, is charitable and does not drink alcohol or smoke.

He is also known to have a generous heart and has a long trail of kindness.

To state just one of a myriad of examples about his kindness, the current Asante King has described how Nana served as his lawyer for years, when the Otumfuor was an ordinary royal, without charging him.

Nana is also blessed to be very cross-cultured, being married to a Ga and growing up among tribes not of his Akyem/Akuapem extract. Indeed, he speaks many local and foreign languages.
Most importantly, though, Nana speaks the language of bringing our people together.

Nana is also experienced and matured, having achieved lifelong excellence in law, business and politics.

Many successful political leaders, like Alassane Outtara and Jean Chretien have been known to benefit from such long and rich experience, before assuming the mantle of national leadership.

Anyway, nothing perhaps demonstrates Nana's character more than how he let go off the disputed 2012 election and the 2013 Supreme Court election petition verdict that followed.

For this seminal move of showing ultimate love for the nation above self, many societal leaders have correctly conferred on him the title Abotarehene.
So, the choice is clear. On December 7th, vote for the best character.