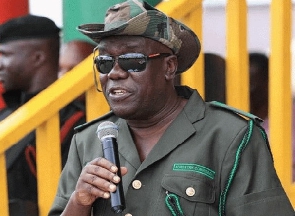 Those politicians who were, or are, amassing wealth illegally and at the speed of lightning are in the mind of the late President Jerry John Rawlings, all greedy bastards.
The late Mr Kwadwo Owusu Afriyie aka Sir John, the former National Secretary of NPP, was a lawyer and a politician.

President Nana Akufo-Addo appointed him the Chief Executive Officer (CEO) of the Forestry Commission of Ghana.

While in the post, he was alleged to have halved the wages of some of his workers from their contracted Ghc800.00 a month to Ghc400.00 a month. This information came out on his death when one of the workers was accused of invoking a curse on him that possibly culminated in his death.

The same worker in a video that came out denying cursing him amid weeping uncontrollably, alleged that even after halving their wages, he had still not paid them for the past several months, thus, their wages were in arrears for months.

Did Sir John single-handedly halve their wages against their terms of contract or with the approval of "orders from above"?
Why was the job not restructured with the workers made redundant, then asked to reapply for the new positions at that half-rate of their previous wages?

I don't want to go into the details of the employment laws as I am aware of, and as they operate in the United Kingdom.

Was Sir John secretly keeping part of the workers' wages for himself, knowing very well that what he did was wrong from his experience as a lawyer? I smell a rat here.

It is a general knowledge and acceptance that we don't speak ill of the dead, nevertheless, Sir John went too far with his quest for riches at the speed of the sound.

Look at the contents of his will that became public knowledge; the numerous plots of land he dubiously acquired from the Achimota Forest, contrary to the retention of the forest as a national reserve for future national developments. Was he not being insatiably and insanely greedy here?
From the report on illegal and alluvial mining (galamsey) in Ghana, by Professor Kwabena Frimpong Boateng, former Minister for Environment, Science, Technology & Innovation and the Chairman of the dissolved Inter-Ministerial Committee on Illegal Mining (IMCIM), Sir John was not spared the brush or stain of corruption.

He had either people mining for him, or he was supporting some people doing illegal mining in the heart of the virgin forests he was supposed to protect by the functions of his office as Chief Executive Officer (CEO) of the Forestry Commission of Ghana.

Again, Sir John was removed from office as Head of Legal at Ghana National Petroleum Company (GNPC) a few months into his appointment by then President John Agyekum Kufuor who appointed him. It was rumoured or alleged that he was about to corruptly execute a gargantuan deal which could have not only tarnished the reputation of the president but cost the company a lot of financial damage.

If all the allegations against Sir John as above are true, then was he not worse than the greedy bastards the late President John Jerry Rawlings spoke about or had in mind?

Why has the political arena become a place of making quick illegal money by Ghanaian politicians, instead of being a place to be of selfless service to their people and nation?
To the Ghanaian politician, to hell with the adage "good name is better than riches".

The Ghanaian politician doesn't care if lying to tarnish the image of his brother, opponent, or killing him will pave the way for them to enter the arena of politics or the corridor of government, they would gladly quickly do it. No wonder Ghana is not advancing as quickly as most honest people would expect it.

Sir John, I am afraid, if all the shoddy deals he was alleged to have involved himself in are true, then I will say he was a disgrace to the womb that conceived and gave birth to him.

He is not alone in this. Many, if not all, of his colleagues in politics, are doing the same or are even worse than him but until the frog dies, we cannot tell its actual length.

It is said, "quick buck goes as quickly as it comes" and how does it profit a man if he gains the whole world and loses his life?
Of all the alleged illegalities Sir John involved himself in, how did he personally profit from them, dying that soon?

This is a lesson for all Ghanaian politicians who are resolutely determined to resort to illegal and evil ways to acquire wealth and power.

The no-nonsense, fearless and proud son of Kumawu/Asiampa has candidly expressed his views on Sir John and is hurting that he resorted to that scale of illegal acquisition of material wealth.