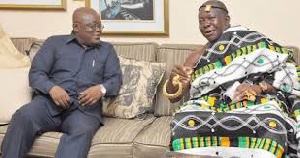 Folks, in writing about happenings in Ghana, we are confident that our voices matter much in the national discourse about the challenges of development facing Ghana. That explains why we continue to write, regardless of whose ox we gore in the process. And we have gored oxen and will continue to gore more!!
I want to raise some comments from readers reacting to my latest opinion piece on what the Asantehene told Akufo-Addo a day or two ago, published by many media, including Ghanaweb (28 responses as of now) and Modernghana.com (5 responses as of now).

Ghanaweb.com

1. A Nii Teiko wrote: "Bokor, with all the noise making, could not decipher the mischief of the 'Mahamas look alike', and partner in crime on the Golden Stool. To cut things short, the Asantehene, in his 'home sense', was indirectly telling Nana Addo that Mahama is building schools, hospitals and roads which is what his Asante people needs.

Every deep thinker knows the implications of the carefully chosen words of the Kookoase King. He was rather campaigning for Mahama right in front of Nana Addo. You see, this is the more reason why Nana must totally ignore. He has no good will for the NPP. No wonder his own subjects jubilation when the fake news broke that he was dead in South Africa.

By the way, This loads of chaff can only come from a rented mind, and a courageous buffoon who, out of hate, refuse to see the obvious. Bokor's hate for Asantes has beclouded his judgement. Ofui"
2. Then, one Neu also wrote his piece under the heading "King Solomon insulted Akufo-Addo": "Asantehene was speaking in proverbs. He wanted to tell Akuffo Addo that all what he wants is development and already Mahama has done it all so Akuffo Addo can go and sleep. If Akuffo Addo is wise he will understand what the king was trying to say."

3. Another one calling himself Dziko Kwame also said: "I fully agree with Nii Teiko's commentary up there! Dr. Bokor, my understanding of Nana Otumfuor's expressions when Nana Addo visited him differs completely from yours. The Asantehene said "IF YOU WIN...". That alone, in my opinion, says a lot. long live Ghana."

ModernGhana.com

1. One Osei (Ghana): "Useless, f**lish Ewe man you join Ghana in 1956 we will one day remove you people, hopeless useless man Bokor "

2. Another one from a reader calling him/herself "Secondhand phd, Nana & Osei , Ghana": "You are the people whose utterances are causing Nana Addo to lose the 1916 presidential elections. Can't you learn to ignore a statement you don't like?? Must you insult everyone who makes a statement you deem annoying because it is not in support of Nana Addo?? The Old Man Above is watching us all; know that!"
What about it all, then?

Folks, judge for yourselves how the wind blows. If the Otumfuo was indeed being "satirical" or "speaking in tongues" in his interaction with Akufo-Addo, what does it tell us? At least, he made his point, which we are free to interpret anyhow to suit our politically motivated purposes. Any art with which to construct the Otumfuo's real political interests/wishes in the substance of his utterances or in his posturing or mien? I don't know.

But if we are to believe those claiming that he was poking Akufo-Addo in the ribs to tell him that just as he lost Elections 2008 and 2012 he will do so at Election 2012 because the Lion of Gonja is already providing the development projects that he was urging Akufo-Addo to provide for his Ashanti enclave IF he wins the elections, then, something really sarcastic is at stake.

But why would the Otumfuo choose to be so sarcastic as to disarm or confound Akufo-Addo?

And in the presence of ex-President Kufuor with whom he has had the best of cordial relationships all these years? What would he have said had Kufuor not led Akufo-Addo there? (Remember that although Akufo-Addo has come out to say that he enjoys the best of relationships with Kufuor, nothing has come from Kufuor to corroborate his platitudinous claims.
Suspicion that a Kufuor faction is working against Akufo-Addo still runs deep in that Asante-Akyem cabal). Of course, that is their own ugly cup of tea (or chalice of poison)!!

And if Akufo-Addo knew the truth hidden behind the Otumfuo's sarcasm, why won't he quickly learn the lesson on how to behave instead of slipping into the gutters just a few hours thereafter by accusing the government of neglecting the Ashanti Region in the provision of development projects?

The records show what the Lion of Gonja has given the Ashanti region so far and will do when retained in office. Why, then, make a fool of himself as he did at Obuasi?

More trouble for Ayola?

I shall return…
Writer's e-mail: mjbokor@yahoo.com