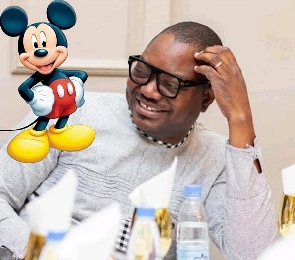 I don't understand some people oo. The meeting is over after a tiring session and you have been asked to give the closing prayer and then you start off with a song. Why? Ah! Someone did that to us yesterday and we vex roff! By the time he was done, we left him there and we went to eat gari and beans!
Thank God it's Friday and the head is scattered. This head sef, I cant tell whether it is dreadlocks, sakora or savanna. Let's manage some nonfa here but remember: 'don't read'!

The biggest irony I faced when growing up as a child was why we used 'blue' powder to wash white shirts and singlets. Don't think about it; just wash anything!

When Englishman was developing the English autography, what at all made him to describe a particular soap as 'toilet soap'? As a kid, I was not sure whether that was what the soap is made from or it is used to wipe things after using the washroom.

I still have one particular toilet soap that I have been using since age 3. You remember ASSEPSO? After using the washroom, I use it for the exact purpose for the 'place' to smell fine fine. Instead of just calling the thing 'bathing soap', you say 'toilet soap' just to confuse a typical village boy like me! Ah! Story not different locally.

I used to live at Tabora Alhaji. Then my landlord was giving me problem because I was playing loud music. So I moved to Malam. It was at this point that my senior bro, Abraham suspected I wanted to change my religion. When I moved to Tuba which is just around the Kasoa tollbooth, my brother smiled. As far as he is concerned, he knows I would never develop an eye problem.

The reason is that he has never seen any Malam wearing spectacles and so I wouldn't be a candidate for spectacles. He was right. From Imams to Malams to Alhajis to Sheicks, they have such good eyesight that if they were the only group of people in town, there would be no need to train eye specialists.
If this is your first time reading this abstract, this is how the column is o. No particular order of writing. As and when the wires in the brain torch small norrr, the subject matter changes.

Endure it. Hahahahahaha! So at your maiden management meeting of your new job, the agenda is to see to how best to pay 4 months salary arrears to staff. The decision is that these would be paid in instalments till Jesus is done with his national service. Hehehe! My brother, relax and don't jump into any door of employment when not sure.

You are attending a job interview just to change jobs because of poor conditions of service. You asked to use their washroom. You entered. The WC handle is not working. In the washroom are buckets full of water and gallons containing water with inscription on the wall: 'Beware of wet floor'.

As you get back to enter the interview room, the existing staff start laughing at you, my brother, chances are that you would get that job. But the very day you report for work is the very moment you start looking through the newspapers to see if there is any 'VACANCY'. Be content where you are and give of your best and greater opportunities would locate you. Amen! Not every open door is worth entering especially if you have a job that is just okay.

Many ladies do well in this area. They don't change jobs easily. They are faithful and loyal to their employers. As for men di333, it is not different from the way we want variety in the bedrooms.

Did you know that the greatest fear of the dog is when a mud man is assigned to feed it? The dog is as uncertain about the next moves of the mud man the same way the mud man is also uncertain and afraid of the next moves of the dog.
It is difficult to tell what the next person sitting next to you and eating with you is planning to do to you. Believe in your instincts and be wise and don't feel you are offending anybody. Just like the antelope, it doesn't need to have offended the lion before the lion jumps on it to finish it; all the lion wants is to eat!

When you enter a barber shop and your first gut feeling is that: 'this barber may not be good', chances are that you would come back home and can't recognize yourself in the mirror. Believe your instincts! God's special way of communicating to us but we often ignore such feelings.

I learnt something interesting from a coastal neighbourhood. According to a fisherman I spoke with, when they go out to fish and there is some kind of grudge between two or more of the fishermen, they never make a good catch.

According to him, before they go out to fish together, they must settle all issues among themselves, and become united and by so doing they have bumper harvests. The analogy is this: when you are not together, the fish also go their separate ways making it difficult to catch them in shoals as fish normally move together in shoals.

If this does not speak to you to make up with someone you have an issue with, please don't go to church on Sunday. You may drive God away from attending to other members of the congregation. If you want to keep grudges, abeg, stay home and don't go and spoil the chances of the well hearted people who would be in church.

You may be bad luck to them. Stay home and keep the hurts; you would be fine. 'No loud am o'. This is a typical way a Naija man will tell you not to tell anybody this secret but it is worth considering.
My Teacher at Anunmle JSS, Mr Benn Tetteh once told me that "Mawuli, you have a weird way of thinking. My only worry is that many years to come, people will spend their quality time just to read your useless writings. This was in 1986! It has come to pass and it is still passing.

Have a great weekend and remember, it is not the desire of the snail to be slow in movement. It also wishes it could fly but….remain in your lane! I used to play soccer paa o even in the school team.

My teachers didn't find any useful students than to rely on me to play in the school football team. Little wonder my school never won any single football match in which I played; I played the number 3 position. Every single goal conceded passed through where I was! Sadly there was another 'useless' chap, Obulu, a half-caste who played number 11.

He was neither a winger, a defender nor of any use. He only added up to the numbers, just like myself. It was only the two of us who played football wearing crossed sandals; no soccer boot fit! Why would they! Referees never took us seriously so even in the event of committing a foul, he overlooked it. Only the two of us communicate well especially when we intended feigning injury so that we would be substituted to go and rest.

Our communication was similar to the coded but decoded way my Naija friends, Tunde and Ebuka communicate. I like the way Naija guys communicate o. I was listening to someone while in Lagos recently. He was giving direction to someone.

Ordinarily, I was expecting him to say: 'Omor, I am standing at the place opposite the gas filling station'. The guy used some other expressions that simplified it for people who have never been to school to understand: "Abeg, you sabi that gas filling station for Wuori. I am standing where the filling station and the pharmacy shop dey look each other in face'. Simple communication. You gerrit?
Have a thrilling weekend and remember it is not every funeral or wedding that you must attend at all cost. Send momo. Whether you attend or not, it won't change anything. Saw the story of a guy who died with two relations in an accident while travelling from Accra to bury his mum in another region.

His mother has been buried (I think so) anyway though he wasn't there. Learn to give excuses, sometimes. Be there for others but do not stay behind! 'The older you get, the more you realise it's not what happened; it's how you deal with it'. May your soul rest in perfect peace, Tina Turner! Byeeeeee!