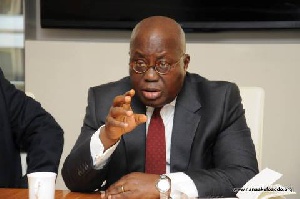 The man with his long beak, foul mouthed Akan supremacist, Yaw Osafo Marfo had this to say: "Yeka Akanfo a, wosi Nfantefo? To wit: When we are talking about proper Akans, you talk about Fantes – they are not proper Akans.
This tribal bigot is not alone because Osei Kyei Mensah Bonsu, the minority Leader in Parliament, Kennedy Agyapong, Ursula Owusu, Akenten Appiah Menkah, Isaac Osei an NPP MP and even Ex-Prez J.A Kuffour and Nana Akuffo Addo are all Akan supremacists who all believe false;y that their tribe is superior to all the other tribes in Ghana because of their utterances and attitudes towards the other tribes in Ghana.

They are all following the footsteps of their criminal fathers and grandfathers who killed thousands of innocent men, women and children through ethnic cleansing in Kumasi and Kyebi during their political fight with the Late Dr. Kwame Nkrumah from 1951 – 1956. They were fighting for Federalism on a narrow tribal front for an independent republic of Asante which failed.

Ex-prez Kufour has utter contempt for Northerners and Muslims as well as all NPP members in Ghana. In a meeting with US Ambassador to Ghana in May 2005, Kufour described "Zongo" people as people without BRAINS of their own. He added that the POOR ZONGOs are filled with young people who ARE NOT EDUCATED. They only follow what they are told by THE IMAMS. See Wiki leaks, Ref ID: 05ACCRA.892 created 10th May 2005.

The late Victor Owusu of blessed memory was a fine Lawyer and a short politician with a foul mouth because he described Ewes as inward looking people and that if an Ewe becomes a head of department in any institution then 80% of all that company or institution's workers would be Ewes – THIS IS A BIG LIE, When Dr. Busia was the Prime Minister of Ghana from 1969 – 1972 95% of all his appointees were proper Akans – apologies to Yaw Osafo Marfo.

When Dr. Hilla Limann won the 1979 elections, the National Liberation Movement (MLM) Mate – meho tribal bigots insulted Limann by telling him that he was spitting Kola which he was chewing onto the walls of the Castle. They have never accepted from the North because they (NPP members) considered all Northerners as inferior people from the WRONG TRIBE.
Yet all those NPP members who consider Northerners as inferior people are not qualified enough to polish the shoes of Northerners. The NPP rejected the late Vice President Aliu Mahama just because he was a Northerner and not that he was not qualified to become the Flagbearer of the NPP so they dashed him with ONLY 20 VOTES during the Presidential Primaries in 2007.

False promises when the NPP is in power

1. NPP government will provide government loan guarantees under a new programme called the Small Business Assistance Programme. Under this programme, an NPP government will guarantee 80% of the loans provided to qualified SME's: What was the OUTCOME? It never honored it.

2. The NPP government will ensure that at least a community health nurse is located in every hamlet of the country – It was a very good suggestion but the NPP never honored that promise too.

3. The NPP government will establish " half – way" houses to smoothen the re-intergration of discharged convicts into the society – what was the outcome – the NPP never honored it.
4. The NPP will substantially increase the domestic budget allocation to Rural Water Development. By 2010, at least 90% of all Ghanaians will have access to clean water supplies and waterborne disease will largely become a thing of the past. Outcome: It was never even started, let alone implemented and that is the violent prone tribal NPP for you – dear reader.

5. Ensuring modernization and availability of Urban Housing for instance, subject to the agreement of stakeholders, slums shall be replaced with "apartment houses" with modern convenience which will be cost effective and environmentally friendly – It was a very big hoax as it was never even started by the NPP.

The NPP disagrees with the present arrangement for the appointment and removal of District Chief Executives, Ultimately, they will have to be freely elected – they said this when they were in opposition from 1992 – 2001 – yet they never honored their promise when they came to power in 2001- I can go on and on, and on and on until I cite 300 promises of the NPP.

The Tribal war cry of the NPP in Ghana is that Akans will fight for their birth right to rule the country if people stand in their way. To the Akan Supremacists, I say what is coming, is coming, and what will happen, will happen. Keep your fingers Crossed, I Shall Return.

Writer's e-mail: clementsang@yahoo.com