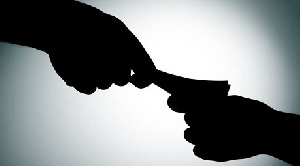 THERE is no gainsaying the fact that corruption is a bane to our country's development. All those state monies that find their way into the pockets of some government officials could have been used to build schools, clinics and better roads in communities that lack these facilities.
THAT is why Today will treat the matter of fighting corruption with all the seriousness it deserves. It is a matter that we must all contribute to fighting it head-on.

FAILURE to uproot it as a people and a country means denying the state much-needed revenue to provide social amenities for the citizenry of this country. We have heard all kinds of corruption campaigns by different governments all aimed at fighting the canker.

DURING President Kufuor's era, the campaign was Zero Tolerance Against Corruption. In the era of late President Prof. Mills, he entreated us to back our corruption allegation with evidence.

EVEN before President Akufo-Addo took over the reins of government, he had made it clear that corruption will find no space in his administration. And to demonstrate his commitment towards this just course, the president through Parliament has set up the office of the Special Prosecutor.

FOR us at Today though we see at as encouraging efforts by the current administration to tackle corruption, it is equally worrying to hear the continuous talk by the Akufo-Addo administration to go after corrupt officials. One wonders when we will see action taken against persons who have stolen state money.
AND we are tempted agree with former Commissioner of Human Rights and Administrative Justice (CHRAJ), Justice Francis Emile Short, that the Akufo-Addo administration is not doing enough to fight against corruption. In fact, we must bluntly state that we cannot win the corruption fight with mere words.

The fight against corruption must involve concrete action taken against persons who have stolen state money. We agree with the Akufo-Addo administration that corruption allegations must be backed by evidence. But the question Today is asking is what are they helping matters by always saying that they will fight corruption when indeed there is nothing concrete to show?

IT'S been eleven (11) months and counting, yet there is nothing concrete to show that the current administration intends to tackle corruption head-on except the creation of the office of the Special Prosecutor. It is in the light of the above that Today is charging the Akufo-Addo administration to put in place proactive measures towards helping to prevent corruption.

This, we believe, they can do by ensuring that the Right To Information Bill and the Whistle Blowers Act are passed into laws. These are two laws when passed can help in our fight against corruption.