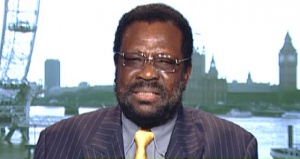 By: Cameron Duodu
It gives me no pleasure to have to quote the Scottish philosopher, David Hume, knowing, as I do, that Hume was a racist and did not scruple to slander non-white people when he discussed civilization.

I don't have the space to go into the reasons for that statement, but I do want to draw attention to something Hume said, that is relevant to the position adopted by our Parliament on the "Ayariga" bribery allegation issue.

(It will be recalled that the Honourable Mahama Ayariga, MP for Bawku Central, alleged on 27 January 2017 that a minister-designate had "bribed" some members of the Appointments Committee of Parliament, with a view to influencing them to approve his nomination).

The allegation was hard to credit, for the nominated minister's party has an overwhelming majority in Parliament, with the result that it was difficult to understand why a nominee proposed for ministerial appointment by that party's leader, should need to bribe any of his parliamentary colleagues in order to obtain their approval.

It looked to me to be a particularly nasty example of a well-known political technique calculated to smear the whole of Parliament, so that the electorate that had returned the MPs, would become disillusioned with all of them. Was this part of an NDC agenda that stipulated that "if we' can't have it [the right to exercise power] then they too should not be allowed to exercise it?
That would be a most dangerous position for the NDC to adopt, because an important element of democracy is that the majority should be allowed to rule, and if it was being undermined at such an early stage in the life of our current Parliament, then that body, as an institution, should view the development with the utmost seriousness.

So, when the Speaker, Prof Mike Oquaye, set up an ad hoc committee to look into the matter, it was thought that that was the appropriate method to settle the matter. The selection of a former Attorney-General, Mr Joe Ghartey, to head the committee, also provided evidence that the committee would follow the rules in going about its task.

But when the committee reported on 30 March 2017, it set in motion a series of events that recalled David Hume's warnings about "knavery" in Parliament. For although the committee found that the Member of Parliament, the "Honourable" Mr Mahama Ayariga, who made the allegation of bribery against the ministerial nominee had falsely accused the minister-designate of bribery and was therefore guilty of contempt of Parliament, the committee only recommended that he should be reprimanded to render an apology to Parliament!

But even this relatively mild recommendation that Mr Ayariga should render an apology, appeared to be not quite acceptable to him. For when he was asked by the Speaker to apologise, he said, "If you say I should apologise, then I apologise." This caused an uproar in the House, for it is, of course, a well-worn ruse employed to pretend that an MP had apologised, when, in fact, he hadn't done anything of the sort. That unparliamentary tactics afoot were demonstrated by a noisy confrontation that reminded one of occurrences on the floors of the parliaments of countries like Turkey, Pakistan and Jammu and Kashmir!

Here are some of the other findings of the committee:
The First Deputy Speaker (Mr Joe Osei Owusu) had denied ever having had any dealings over money with the Minister-designate, Mr Boakye Agyarko;

The Minister-designate had also said he had never given any money to be distributed as was alleged;

A Member of the Minority group, Mr Mubarak Muntaka, who was alleged by Ayariga to have got some of the money, had told the committee that he had never received, or given money, in the manner that was alleged;

The committee was of the view that a CCTV camera footage that was presented to it in evidence would, if made public, compromise the security of Parliament;

The committee was unanimous in finding that there was no evidence that Mr Boakye Agyarko gave money to Joe Osei Owusu to bribe MPs;
In summary, (the committee concluded), Mr Ayariga had failed to provide evidence to support his allegation.

Ayariga complained that he had not been able to cross-examine those who gave evidence to the committee. That may be a valid complaint and it is surprising that an experienced lawyer like Mr Joe Ghartey should have laid the committee open to

such a complaint to be made against it.

However, that is small beer compared to the committee's failure to take a global view of the allegation of bribery against a fellow MP; a view which, if adopted, would have made it recommend a harsher punishment than a reprimand and an apology. A harsher sentence was necessary because almost everyone in the country at the moment is appalled by reports of corruption by our officials.

For only a few days before the report on Ayariga's allegation, another official committee (though not a parliamentary one) had reported that there were irregularities in the "Ameri" contract to establish a power-generating plant for Ghana and that "Ameri" should be brought back to the table to renegotiate aspects of the contract. How many other contracts have aspects that need to be rectified to save public money from being filched?
Not only that – there has been a great deal of unsavoury publicity about alleged attempts by members of the former administration to steal cars belonging to the state. In such an atmosphere, where the political landscape is overhung with the "scent" of corruption, it is important that every opportunity be taken also to dispel suspicions that corruption might have taken place, when it has not.

The rationale for that is this: some regimes in this country have been brought to an untimely end by rumours of corruption. So, unfounded allegations of corruption can be almost as harmful to the body politic as corruption itself. The Joe Ghartey Committee did not devote enough thought to this aspect of the matter. So it has presented a report which seems punishes a very "knavish" MP by only slapping him on the wrist.