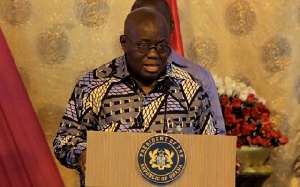 President Nana Addo Dankwa Akufo-Addo, last Thursday, told Ghanaians that as a nation, we cannot win the fight against corruption with mere words. He was emphatic that to defeat the canker of corruption in the country, we need concrete actions.
President Akufo-Addo posited that his government had put in place pragmatic measures to, first and foremost, sanitise, in order to get rid of people whose business it is to loot coffers of the state, and prosecute all defaulters.

"A Ghana beyond aid: Fundamental to this will be maintaining a stable macroeconomic environment in the context of a growing economy, thereby, attracting private sector investment.

"Secondly, we aim to enhance accountability in our public life; Corruption has become the bane of our nation's progress.

"The Office of Special Prosecutor, which will be enacted in the next Session of Parliament, will work independently of the Executive, and will have the responsibility to investigate and prosecute acts of corruption, free from predictable claims of witch-hunting.

The Chronicle agrees with the President unconditionally and without any cloud of doubt, when it comes to fighting corruption in this great nation of ours, since we all agree that the canker is the bane of our very existence as a nation.
Corruption, according to Transparency International (TI), is defined as "the abuse of entrusted power for private gain", classifying it into three types, namely; grand corruption, petty corruption and political corruption, depending on the amounts of money lost and the sector where it occurs.

The TI explains that "Grand corruption consists of acts committed at a high level of government that distort policies or the central functioning of the state, enabling leaders to benefit at the expense of the public good."

The anti-corruption agency says petty corruption is "every day abuse of entrusted power by low and mid-level public officials in their interactions with ordinary citizens, who often are trying to access basic goods or services in places like hospitals, schools, police departments and other agencies."

Political corruption, on the other hand, "is a manipulation of policies, institutions and rules of procedure in the allocation of resources and financing by political decision makers, who abuse their position to sustain their power, status and wealth."

It is estimated that monies belonging to the country that go into private pockets far outstrip that which go into the state coffers, guesstimating that Ghana loses over US$1 billion annually through corruption.
Over the years, since the genesis of the Fourth Republican Constitution, successive presidents had vowed to uproot corruption, and, 24 years down the lane, we still talk about fighting corruption, because the situation is still the same, if not worse.

Former President Jerry John Rawlings, who ordered the execution of Colonel I. K. Acheampong, Lieutenant General Frederick William Kwasi Akuffo, Brigadier Akwasi Amankwaa Afrifa and Rear Admiral Amedume for alleged acts of corruption, was himself accused of corruption.

Former President John Agyekum Kufuor also battled allegations of corruption leveled against him, which include the sale of prime state landed property and uncompleted affordable housing projects to party members and government officials, as well as his role in the US$5,000 to each NPP member in the infamous Ghana Telecom sale to Vodafone Plc.

Former presidents Atta Mills and John Mahama were accused of paying judgment debts to Alfred Woyome, Isofoton, and GYEEDA, among others.

Each of these leaders claimed they put in place measures to address the issues of corruption, but, unfortunately, their efforts were an exercise in futility.
It is for this reason The Chronicle is appealing to President Akufo-Addo to come up with pragmatic measures to remedy the situation, so that Ghanaians, for once, will see that the country is making an effort to eradicate corruption.

Nana Akufo-Addo made it clear when he announced that we cannot, as a nation, fight corruption with mere words, that it was for that reason why his administration had introduced the Office of the Special Prosecutor in Parliament.

The Chronicle believes that if the bill of the Office of the Special Prosecutor is passed into law, there will be transparency in its dispensing of justice, and not for it to become an avenue for witch-hunting of their political opponents.

It is the hope of the paper that the Office of the Special Prosecutor shall be transparent and translucent.