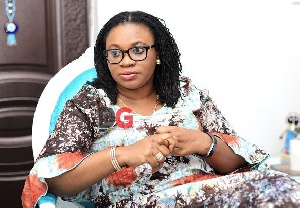 "I've come to realise that Ghanaian men don't respect women. Ghanaian men think women do not deserve to occupy high positions. Even though some men are incompetent, they still get to occupy very high positions in society but once a woman ascends to high office, a litany of questions are asked about her competence and qualification.
Meanwhile, women never ask those questions about a lot of incompetent men who get to occupy such high offices…How can Mr. Ayariga say Mrs. Charlotte Osei is not qualified? How is she not qualified" (Joyce Aryee)

THE RHETORICAL INDISCRETIONS AND EMOTIONAL BUFFOONERY OF DR. AYARICOUGH

Since the respected Chair of the Electoral Commission (EC), Madam Charlotte Osei, came out strongly against some presidential candidates by revoking their candidacies within the Commission's constitutional remits, there have been all kinds of threats thrown at the EC and its no-nonsense Chair.

It is rather sad though understandable, if we may add, that, for merely operating within her scope of responsibilities, she will be subjected to a running continuum of unapologetic tantrums, insults, sexist aspersions, and hatred.

The other day it was Nana Obiri Boahen who placed the dignity of the person of Madam Osei beneath prostitutes.

The day before it had been Kennedy Agyapong who, among other outrageous claims, controversially alleged she battered her womanhood for her current office.

Today, the spitfire Hassan Ayariga, more a grudging national symbol of political satire and emotional buffoonery—not even comparable to the likeness of Akua Donkor in terms of the frivolity of political expression, than a political animal who is convincingly expected to operate outside the circuslike loburality of non-seasoned political players in the general scheme of things—too had the temerity to throw mud at the dignified person of Madam Osei in a vulgar rhetoric of emotional waywardness typical of cowed male chauvinists in the redoubtable presence of intelligent women:

"Madam Charlotte Osei herself is not qualified to be an EC leader. She's stupid and foolish…I am telling you she is not qualified to be an electoral commissioner. Somebody who has contested in an election in the past, you are telling me you don't know his identity.

"Are you normal? And for that reason you disqualify that person? Does it make sense to you? That you tell me that Hassan Ayariga, you don't know his identity? Who the fuck are you?"

This language is unacceptable!

If Ayariga had any questions whatsoever about Madam Osei's discretionary powers insofar as the exercise of her constitutional mandate is concerned, why didn't he consider referring those questions to a competent jurisdiction for adjudication rather than aiming his unapologetic rhetorical violence at the EC Chair? Ayariga also reportedly made these comments elsewhere:

"I am telling you she is not qualified to be an electoral commissioner. Somebody who has contested in an election in the past, you are telling me you don't know his identity. Are you normal? And for that reason you disqualify that person? Does it make sense to you? That you tell me that Hassan Ayariga, you don't know his identity?...This is the joke of the century."

While he blamed the EC for selective ignorance in denying his application, Ayariga may not have considered the option or theory that in Ghana, our own Ghana, Nkrumah's Ghana, strange things do in fact happen for inexplicable reasons. He had better go and ask "General Erskine," as he used to be called!

Lieutenant General Emmanuel Erskine, for instance, was reportedly awarded a zero count for his candidacy in the same constituency where he, the then-presidential candidate of the People's Heritage Party (PHP), inexplicably appeared to have voted for another presidential candidate.
In fact, one of Lieutenant General Erskine's sons who also happened to be this author's university mate and with whom he lived in the same community of Dansoman Esates, Zodiac, got persistently teased that his father voted against himself! Others also bashed the soldier for voting against himself!

Notwithstanding, what are democracy, press freedom and freedom of the press turning Ghana into?

Several theories have since been advanced to explain away his rhetorical indiscretions, including the rather hyperbolic if absurd assertion that, he, Ayaricough, had spent a whopping $4.5 million on vehicles meant for his campaign, an outrageous expenditure that somehow justifies his insulting tantrums against the EC Chair.

Where are these politicians getting all these suspicious monies from? Why has Ghana's democracy become so outrageously expensive? Why do we spent so much money on political campaigns when children sit under trees to study, when hospitals have no beds and medicine, when public services are in such deplorable states, when we have no motorable roads and so on?

What is wrong with us as a people?

That is not to say politicians cannot spend money anyhow they want if the sources of their wealth are legal, or legitimate.

Unfortunately, exorbitant expenditure of this nature breeds corruption in the sphere of politics, in that some of these heartless politicians eventually gain access to the Flagstaff House and suddenly, they are presented with a golden opportunity to recoup their investments.

Part of the reason for the rampant nature of political corruption in our body politics boils to this simple formula of exorbitant expenditure on electioneering practices.

Yet, hopefully, when we look at the decision of the EC in the disqualification controversy and some of the reasons accompanying them, we can then begin to understand why Ama Ata Aidoo boycotted a well-patronized event meant to honor her.

This also brings back nagging memories of the so-called Brochure Saga at the heart of the independence celebrations last year.

Of course, administrative errors are inevitable but forgery and impersonation are not!

This view may have constituted the moral subtext of the EC's radical decision to disqualify those thirteen presidential candidates.

But, that moral subtext appears to have a technical basis in constitutional facts from the standpoint of the EC understanding of electoral laws.

We are however yet to know if Eric Dzakpasu, the Director of Communications at the Commission is correct when he said those parties which were disqualified, were actually offered an opportunity to rectify their administrative errors and other such errors though they would still return the error-plagued forms, a policy position vigorously contested by Nana Agyenim Boateng, the presidential candidate of the United Front Party. He reportedly offered the following riposte:
"They did not notify me; it is the first time hearing this mistake. Is this fair. Is this democratic?"

The point is that democracy is not fair! It is sad, even regrettable, when democracy hands over power to unqualified persons! Democracy has also turned political sickos into a land of nagging litigants.

But EC employees and its Char are doing the job entrusted to them, a mandate to executive no matter the comical rants and manipulations of aggrieved Machiavellian politicians!

Fairness should be the catchword for our "newfound" electoral politics and the EC and its Chair should take note.

In the main, private citizens can file amicus briefs in behalf of the aggrieved candidates while the aggrieved candidates on the other hand can appeal to locus standi in their own behalf.

Last, but certainly not the least, the EC's sweeping decision gives the fragmented Nkrumahist parties another golden opportunity to reconsider joining forces to break the hegemony on the nation's duopoly.

Finally, we commend Hassan Ayariga (and the leadership of his party) for mustering courage and rendering a qualified apology to the EC and its Chair, coming after he had publicly said he did not regret insulting the latter.

Ayaricough has come of age. Akua Donkor is waiting to give him a big embrace for "manning up."

Kennedy Agyapong, Nana Obiri Boahen…are you people there and listening to Ayaricough?

CONCLUDING REMARKS

"Anything we do, we do it based on law; we don't just do things the way we want it. You are supposed to present your forms on the 29th and 30th and make sure that every detail that you have provided on the nomination form meets the requirement of law. So if you don't meet it you don't turn round and blame the EC for disqualifying you" (Yussuf Ayuba, Deputy Communications Director of the EC).

We need to commend this great non-establishmentarian woman, Madam Charlotte Osei for maintaining her dignified silence in the face of a barrage of insults, aspersions, and dehumanization. She needs that resolve to effectively deal with our wayward, impatient and ungrateful politicians.

In response to a question about the challenges she faces, real and perceived, as the boss of the EC, here is what she had to say about her regret for taking on the EC job in the first place:

"Yes! It's difficult on some days…I think whatever or wherever God places you it's a ministry and because of that even when the job is difficult you remember that it is a ministry…I get lots of messages of support and prayers from family members…
"This is not a job that I think is easy anywhere in the world. But I think it is particularly difficult in Ghana and Africa when you are particularly a woman. I can take the stone but I'm worried for my children and on those days you get siblings calling and worrying you. I can take it but for those it is worrying."

Asked by Nii Arday Clegg, the host of Morning Starr (Starr 103.5 FM) if she intended throwing in the towel, she had this to say:

"I don't think that is a choice. It's a ministry."

Indeed, such is the appealing character of an intelligent, discerning woman with concrete resolve! And if we may also add, no doubt her congenial resolve is a harbinger of good and greater things to come!

It is such a great sight to behold, of her strong personality, that this intimidating barrage of insults has not succeeded in making her steeled will amenable to the invidious dictates and schemes of her critics.

She therefore ends up making her attackers look like political newborns with undeveloped and underdeveloped brains.

Madam Osei is, after all, a smarter woman than most of her critics are willing to give her credit for. Of course, her critics are not intelligent and discerning enough to see this great woman as an embodiment of strategic and tactical astuteness.

It may not be clear to all but she appears to have been using her strategic and tactical astuteness to protect her authority from being eroded piecemeal by an avalanche of intimidating verbal attacks and outright lies against her person, a policy mechanism that could potentially divert the country from post-election conflicts.

She must understand that all the public denunciations of her leadership style are merely calculated instruments meant to get at her inner strength of institutional justice and to turn it into a firestorm of immanent perturbation, a means to force her to usurp her authority and make her lose focus.

She must then resist all attempts by her detractors to deploy any such Machiavellian mechanisms against her, to destroy her public appeal thereby turning her into a repulsive public enemy to their exclusive partisan advantage. The EC and its Chair are neutral and this should remain as it is, simply inviolate!

She should consider her perverse critics as ordinary objects within the operating framework of resistentialism. Not allowing these enemies of progress to use her potential riposte (s) to their political gimmicks as a barometer of how good and effective their strategy is, or has been, is in her own interest and that of the institutional integrity of the EC which embodies her strengths and weaknesses, her vision.

"Give them an inch, they take a yard…

"Given them a yard, they take a mile…

"And everything is just for a while…
So saith Bob Marley ("Real Situation").

We, therefore, shall advise to her to maintain her steeled neutrality in the face of invidious provocations so that partisan politics does not succeed in distracting her from exercising the fullest continuum of her constitutional mandates. She needs this. And the country needs it too!

Silence is not only golden but sacrosanct as well! Thus, staying above the simmering fray of partisan politics and its potential for the internal destabilization of the country should define her credo of neutrality.

And, oh, yes, finally, she also has her closet fandom to celebrate the little successes she has chalked for the EC and Ghanaians under her able leadership. This is what should matter the most to her.

Madam Charlotte Osei, please just ignore all those critics of yours who are not constructively helpful to you as you solemnly carry out your mandates as the respected headship of one of the nation's most prized democratic institutions. And do not also imitate the weaknesses of your male critics, enemies and detractors. Some of them had wished they occupied your golden seat of opportunity!

REFERENCES

Ghanaweb. "EC boss 'Stupid, Foolish'—Hassan Ayariga." October 14, 2016.

Ghanaweb. "Hassan Ayariga Blows $4.5m On Campaign Cars." October 13, 2016.

Ghanaweb. "Disqualified Aspirants Have Themselves To Blame—EC Suggests." October 10, 2016.

Ghanaweb. "I Don't Regret Insulting Charlotte Osei—Ayariga." October 11, 2016.

Ghanaweb. "Hassan Ayariga Apologises To EC Chair For 'Stupid' Comment." October 11, 2016.

Ghanaweb. "There're 'Incompetent Men' In high Offices—Joyce Aryee." October 13, 2016.

Ghanaweb. "I Wish I Hadn't Taken EC Job—Charlotte Osei." January 11, 2016.

Ghanaweb. "We Aren't Ready To Accept Any Plea—EC." October 11, 2016.