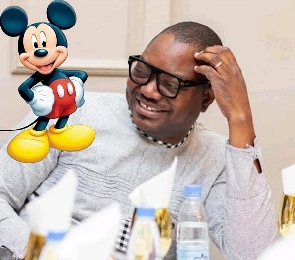 I just realized during the 2022 Christmas that one of the lies I have been telling myself over the years is that: 'as for me, my wife doesn't like money'. Hehehe! Ajeeish! No further comments! Together as one ATM! We move! Hahahahahaha! Happy New Yearrrrrrr! Hurray!
I was happy on this particular Christmas occasion because almost all of my cousins and us came together to eat, dance and laugh amongst ourselves. There were some I haven't seen in 30 years.

Younger, older, babies, etc; they all came. Our forebears had created some unnecessary enmity or rather rivalry amongst themselves which cascaded further down to us and their grand and great-grandchildren children even though most of our parents are now dead and gone.

Unnecessary because why should you have issues with your Brothers or Sisters when you know you are all poor! Well, maybe they were fighting over who had the right to be poorer than the other. Sadly, the death of one could be spiritually attributed to the other but gradually they all went one by one. No need to be at loggerheads o, yooo! We their children found it difficult relating with each other.

Sometimes, you meet a nephew or niece in town who doesn't know you and vice-versa. Why inherit the disagreements amongst the generation before us? No way! But last Christmas, we decided we were going to break that jinx of unnecessary and unexplained family rivalry. For the first time, we all came together and had fun at very low cost. Akple, konkonte, fufu, dzenkple, akpeteshie, beer and other inexpensive stuff made the reunion fun at the residence of my 84-year old old Mum, Daa Minawo, the oldest of those still alive. We were all happy seeing each other again.

The only person who couldn't make it to the gathering was Uncle Ganyaglo! This my uncle's akpeteshie drinking problem is still a problem o. Until the last Xmas gathering, I never knew akpeteshie was an illegal commodity in Ghana be it through trading or consumption. Sodabi? Apevia? Doamekpor? Kill me quick? Apio? The nicknames are numerous but the effect is the same.
It is quiet in nature when in a bottle but shows its true transparent colour as soon as it enters the body. 'Instant justice'! Just when we enquired about knowing Uncle Ganyaglo's whereabouts and whether he had stopped drinking alcohol now or not, Sister Vero, one of my Aunties remarked: "Oh, uncle Ganyaglo you mean? He is now into distilling of akpeteshie".

My Sister, Dovi nearly fainted upon hearing this. In spite of his excessive alcohol intake and 'prowess', we all like him and wished he had stopped drinking akpeteshie but the matter has become a case. Hmmmm! You know the way African elders handle unplanned pregnancy related matters.

All they do is to ask you a simple question: "do you know this girl?'. The moment you reply 'Yes' p3, no more explanation or DNA test; you are the father! That is exactly how uncle Ganyaglo handled family matters. Full of wisdom but now that he is into akpeteshie distillation di333, abeg, it is a lost battle!

Have you realized that if you try to roll up your car window glass and the moment it is done, it automatically starts rolling itself down, then two things are likely. An obvious mechanical problem or my hometown people have come to pay you an unannounced visit. It is the same irony with the intake of medications meant for the head. Common paracetamol does a lot of magic.

The pain is in your head o, but the medicine has to go to your stomach be it a headache or a migraine. How come the easiest way to cure something that is hurting your head is through the stomach instead of just creating some small hole in the head and inserting the para there. Ever thought about it? Hahahahaha!
I often don't have more than two pairs of shoes at the same time. The reason is this: inasmuch as I love to change the way things are done every day, I often abandon one pair and would wear the other one saaaaaaaaaa till it starts giving way by the side. As for the pair of socks, please don't ask me how often they get washed.

Sometimes I even use them as duster to wipe my dirty shoes when there is no shoe shine boy around. Weytin no happen before! That is why I don't like carrying two phones.

So it came to pass that I acquired a phone in March 2020 when COVID started misbehaving like that wicked step uncle. It has served me for close to 3 years before replacing it. It started giving me problems but I wouldn't let go.

The reason I liked using it was the fact that it was a repository of every important image and video as well as documents that I can access at any time when the needs arise. You sabi that phone whose screen, until it is cracked at some point, then you have the wrong brand. Apparently, it is one of the most common brands used by a typical corporate person in Ghana.

Then on Christmas Day, I decided to chop my birthday by buying a new phone. I entered the mall with my troublesome happy-go-like kids. Upon entry, I picked the phone I had planned to buy. Suddenly, the youngest of my girls started crying that 'Daddy, I don't like this phone. I like…. and then she ran towards the opposite shelf and pointed to one with the picture of Stoneboy on it.
I resisted, not because I didn't like Stoneboy but because it was not my preferred brand of phone. Interestingly some two adults also entered and went straight to pick the ones with Stoneboy's picture on it and paid straight away. You know we don't bargain at the malls. We rather do so with the poor okro seller!

What at all about Stoneboy that is attracting so much attention from almost everyone who entered the shop? Now this girl cried the more: "Daddy, buy Stoneboy"; the other ones, I don't like", as if she was the one I was buying the phone for. Even the Stoneboy they are talking about nu, neither me nor my kids have ever seen him in person before. We only see him on TV and other media.

The long and short of this unnecessary story is that I eventually bought what her heart desired and I must confess: my daughter has been vindicated; I love that phone! Praise the Lord for girl children; they know what time it is!

Eish. While writing this non-fa, someone just posted on one of my wosap platforms that she is renting her two-bedroom house at Kasoa going for GHC2,200 per month. I asked her via her dm if it was not a typo? GHC2,200 or GHC220? GHC2,200 rent at Kasoa?

Ah well! We are still investigating the actual rent because where I live in Kasoa, the 4 bedroom house rent I pay is way **** than that but let's see how it goes. Even last month when my rent was due and I reminded my landlord, he said 'ei, I didn't even know you pay rent o. Forget about this one; I take chop you Christmas wae'.
Only in Kasoa! Kasoa? Hehehehehehe! Please leave us alone o. We love our territorial base! It is the best suburb in West Africa especially more often for the wrong reasons, in case you didn't know. It is just some miscreants giving us a bad name.

If you are a bit apprehensive about the year 2023, please try and sing this song that I was taught at Anunmle 3 Primary School in the 1980's. It makes more sense to me now than then. Here it goes: "Day by day, dear Lord of these three things I pray……To see Thee more clearly,…. Love Thee more dearly…. follow Thee more nearly….Day by dayyyyyy! Aaaaamen!

Happy New Year and 'Come on', happy yourself in 2023 and may the Lord be with us all! Amen!