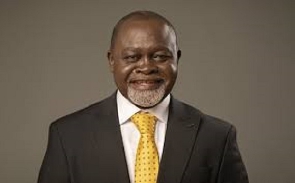 The first encounter with anyone is very important. It gives you an impression of him or her.
I had heard about the former Ghanaian world super featherweight boxing champion, Azuma Nelson.

However, I did not know what a nice, humble, respectable, and respectful gentleman he was until our recent public interaction or encounter at his mother's funeral in Accra.

How a boxing icon of international fame is down-to-earth and can chat heartily with people, irrespective of their society or class, was amazing to me.

I wish many rich Ghanaians, famous and popular people, could be like Mr. Nelson Azuma, character-wise, in seeing and treating any ordinary person as a human being worthy of their respect and recognition.
I pray his humility becomes an example not only to his family but to the entire Ghanaian society at large to help heal wounds and cement us together as one nation and a people with a common destiny.

I have come to see him as wise and biblically recommended to be consulted when one lacks wisdom but needs wisdom.

I tip my hat to Mr. Nelson Azuma for being such a humble person giving respect to whom respect is due.

May he grow from strength to strength in all his endeavours to give recognition and respect to people for simply being human beings in the greater interest of building a harmonious society.