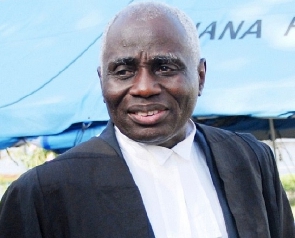 The once highly spoken of the legal brain in the annals of Ghana's legal profession, a man without any equal, Lawyer Tsatsu Tsikata, is lately from empirical observations, a total spent force. His once glowing legal flame has glimmered, if not completely extinguished.
Could it be a defect come upon him because of his advanced age, being an octogenarian? It could probably be!

Could it on the other hand be the result of his obvious political partisanship, inextricably aligned with the NDC and hence will go every inch to do his party's bidding, regardless of how fatuous that bidding may be?

All the court cases he has been handling for NDC and their members right from the 2012 election petition filed at the Supreme Court by the three NPP musketeers, namely, Nana Akufo-Addo, Dr Alhaji Bawumia and Jake Obetsebi Lamptey, through the 2020 presidential election petition by NDC John Dramani Mahama to the current case of constitution breacher, James Gyakye Quayson, one could clearly tell how Tsatsu Tsikata has become a waste of space in the legal field.

In the face of teeming evidence to the contrary, he will decide to take up the cases, hoping to win them for his clients on technicalities. By such porous expectations, he will resort to tactical delays of the cases by filing applications upon applications all of which, however, end up being denied because of their lack of merit.

Yes, employing, and attempting to use, technicalities, to win cases, is part and parcel of the legal profession but the trite infatuated application of them by Mr Tsatsu Tsikata as he has come to be known of, makes him a total mockery and the whole process damn ridiculous.

Calling a spade a spade but not a big spoon or a digging farm implement, the current case involving James Gyakye Quayson should not be handled in the manner that Tsatsu is going about it.
It is clear to even the physically blind and deaf person to see, read and hear to ascertain that James Gyakye Quayson has breached the entrenched clause 2a of Article 94 of the 1992 Constitution by which Ghana is governed.

Again, there is a precedent in Ghana where the late member of parliament for Bawku Central, Adamu Dramani Sakande (Hon.), was not only removed from parliament but prosecuted, found guilty and jailed for breaking the same clause, similarly as done by James Gyakye Quayson.

In other jurisdictions like Australia, Canada and Kenya, there are precedents where those breaching the disqualification clauses on who cannot become members of parliament, are removed from parliament, prosecuted and jailed or fined.

Why is Tsatsu making legal gymnastics or somersaults with the case involving James Gyakye Quayson, where he had deliberately acted in contravention of the clearly specified constitutional clause written in simple English understandable to even a primary 6 pupil in the whiteman's land?

Let Tsatsu understand that he has tainted his legal career well ahead of his inching towards his grave.

Any wise person would in his stead, be preserving their hard-earned good name and achievements by doing the right thing but this is not so with Tsatsu oo Tsatsu, the idol of the late Ama Benyewa Doe, an NDC Minister and fanatic.
Then NDC National Secretary Johnson Asiedu Nketiah in the heat of his campaign to win the NDC chairmanship, competing with the potential murderer Samuel Ofosu-Ampofo (by his alleged intercepted audio-recording coaching some NDC members in a secret meeting to kidnap, insult, murder, etc. people), then NDC National Chairman, told the nation how Tsatsu knew very well that John Mahama lacked evidence for his 2020 Supreme Court petition yet, he took up the case, doing his court gymnastics. What a disgrace!

NDC has gone into his head so much so that for him, self-reputation is nothing hence what we see him doing, an old man doing legal somersaults in serious courts only to land hurt!

By the way, had James Gyakye Quayson not perjured and falsified documents to facilitate the process of filing his application with the Electoral Commission to contest for the Assin North Constituency parliamentary election in 2020? If he had, then why this court circus by Tsatsu Tsikata and his NDC legal team? Funny though!

No wonder that Ghana is stagnating, if not retrogressing, in her socio-politico-economic emancipation. How can Ghana make forward movements in the various facets of her development with all these clowns around, and pulling her backwards?