What are we thanking God for with a National cathedral? The crushing poverty or lack of proper healthcare?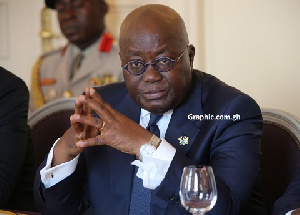 To nobody's shock, the President of the Republic, Nana Addo Dankwa Akufo-Addo, is concentrating a lot on the soon to be built National Cathedral which he says is to thank God for all he has done for the country.
Akufo-Addo conveniently does not mention all that God has not done for the country – the hardships and suffering people go through every single day.

The President laid down the reasons for building the Cathedral in a video which GhanaCelebrities.Com founding editor, Chris-Vincent Agyapong Febiri, has shredded to pieces.

According to Chris-Vincent, the problems in Ghana are so numerous that a National Cathedral should not even be on the menu.

As for the excuse that God has done a lot for the country, it's demonstrably untrue.

"Common hospital beds for sick citizens, we do not have, common classrooms for students we do not have, common ambulance, we do not have–and we are damn poor as a church mouse.
"Yet our President, the Messiah we voted into office says he is building a national cathedral to thank God for what he has done for Ghana." Chris-Vincent wrote.

"What has God done for Ghana? The poverty? Even if you people want to thank God, can't you do that from your homes and the many churches that exist–and build hospitals and schools rather?

"A country of young people being ruled by near dead old men and women–this is what we get.

"I am disappointed in Nana Addo for this. And guess what, Mensa Otabil and the rest are the trustees, in charge, and in support," he added.