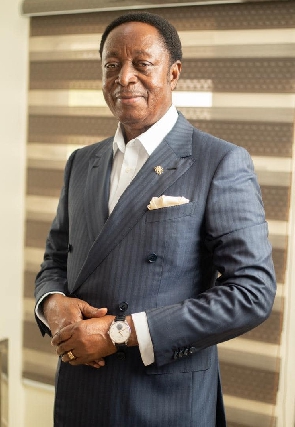 What do Ghanaians want from the NDC in this moment of phenomenal world economic crisis, Rockson Adofo, the fearless and proud son of Kumawu/Asiampa wants to know?
Do Ghanaians want the NDC to replace the NPP in any next formation of government just because of their known and come-to-accept 8-year cyclical rotation of power between the NDC and NPP?

Do Ghanaians now see the NDC as the better managers of the Ghana economy than the NPP hence clamouring for their comeback amid the singing of praises ofJohn Dramani Mahama?

Be that as it may, l shall plead with Ghanaians to prevail upon the NDC delegates to choose Dr Kwabena Duffuor but not John Mahama.

Ghanaians, l hope you want someone who can better your collective standard of living but not simply a change of government from NPP to NDC?

If yes, then Dr Kwabena Duffuor is more far-sighted, knowledgeable, competent, dynamic and dedicated to serving his nation and people much better than former President-cum-aspiring-flag bearer-candidate John Dramani Mahama.
John Mahama for want of power and personal wealth has become exceedingly populist in his pronouncements and views; political activities, public engagements and critiques of President Nana Akufo-Addo.

He does not reason and is not a deep-thinker, unlike Dr Kwabena Duffuor. He simply repeats and sides with the expressions by the Ghanaian multitudes that are comparatively politically unsavvy.

A person who supports and encourages the wanton destruction of the country's water bodies, fertile and arable lands and forests through illegal surface and alluvial (small scale) mining (galamsey) in my candid opinion, is not fit to be president of Ghana.

A person who looks down on Ghanaians and does not only take them for having a short memory but publicly declares them as such hence will not listen to their genuine concerns is not fit to rule Ghana.

A person that myopically maliciously criticises any good policies and programmes of the sitting president all In attempts to unseat him is not good for any purpose.
Such person is John Dramani Mahama, the self-asserted carrier of a dead goat syndrome hence nonchalant about the collective welfare and general feelings of Ghanaians.

I am very doubtful Dr Kwabena Duffour would lie about the impact of Covid-19 and the Russia-Ukraine war on Ghana's economy, unlike "power conscious and wealth-seeking former President John Dramani Mahama, now an aspiring NDC flagbearer-cum-presidential-candidate.

Ghanaians, do you prefer a liar that superintends the destruction of the country's water bodies, etc., to come and manage the country, to a more sensible and caring person as Dr Kwabena Duffuor, should Ghanaians happen to vote in NDC?

Fellow Ghanaians, be careful about the change of government you are clamouring and who you want for president.

Former President John Dramani Mahama should not be in the equation at all for once bitten, twice shy.