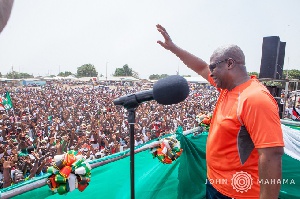 Does the self-asserted callous former President John Dramani Mahama who has open disrespect for the Ghanaian citizenry take us for fools because we reside in a shithole country? It is an insult to the intelligence of the citizenry to see him start campaigning for early return to the presidency because to him, and from his own bloody mouth, His Excellency Nana Addo Dankwa Akufo-Addo is super incompetent.
Was he not the person who out of the abundance of his lack of respect for Ghanaians and out of his lack of feelings for the suffering of Ghanaians when they became victims of his massively masterminded and orchestrated official corruption, claimed to suffer from dead goat syndrome and that he would also never take lectures from anyone who had never been a President of Ghana before? His nonchalance coupled with his conspicuous love of practice of selective justice, corrupt practices et al, constituted a vivid insult to the intelligence of Ghanaians if we care to know.

When I see people following him on his stupid walks which are clearly campaigns to stage a comeback, I sympathise with my fellow Ghanaians both home and abroad for our lack of willingness to develop as a nation but our ever readiness to wallow in the stigmatized black man's incompetence and black man's mentality bordering on backwardness. Why should we at all desire that such a person who gleefully presided over the creation, looting and sharing of the country's money through dubious means, incurring great debts to the country, be sooner returned to govern us? Are we that stupid? Do we not have the brains to reason as human beings? Why should we always denigrate ourselves by our behaviours to cost us respect in the eyes of our contemporary whites?

Should His Excellency Nana Addo Dankwa Akufo-Addo fail as wished by the unmatched corrupt and incompetent President in the annals of Ghana's politics, it should not be former President Mahama and NDC to come back to rule the nation. It should be a different party and different persons altogether. Why can't we copy the emerging political surprises happening in the civilized Western world to help build our nation where and when we come to the conclusion that both NDC and NPP, the mainstream political parties, have failed us? Why should we continually want to wallow in absurdity and corruption, the causes of the economic stagnation or retrogression of Ghana and almost all the sister African countries? When at all shall we cease to reason like, sorry to say, animals?

His Excellency Nana Addo Dankwa Akufo-Addo SHALL NOT FAIL! He will succeed because I shall point out where he is going wrong and suggest to him to correct his mistakes and being a listening person, he will weigh the arguments and suggestions to decide much better.

It is a punch below the belt should former President Mahama mock His Excellency Nana Addo Dankwa Akufo Addo because he has not as yet been able to deliver all his campaign promises. This goes to confirm how shallow-minded and a political novice John Dramani Mahama is after all his three decades in politics and unfortunately dubiously coming across as the President of Ghana. How does he expect him to deliver all his electioneering promises in less than two years? Even a mad person will not reason the way he does.
Had he not depleted the nation's coffers before he lost the 2016 elections? Was he not the person who metaphorically joyously announced to the nation that he has chewed all the flesh and just left the bone? By this, he meant to tell us he had depleted the nation's coffers and that there was nothing left for any future government to run the nation? Indeed when Nana Addo came, there was no money left for him to manage the nation but debts. This is the person some little-minded persons are throwing their weight behind to come back to rule Ghana.

In France, when they got fed up with the mainstream political parties, a thirty-nine year old Mr Nobody in the person of Monsieur (Mr) Emmanuel Macron emerged from nowhere; just a year after resigning as a Minister from President Francois Hollande's Socialist Party, to form a totally new party to campaign to win the election as the youngest President of France. In Austria, a thirty-one year old Sebastian Kurz won the presidency on 18 December 2017 to make a history of becoming the youngest President in the world? A non politician, Donald Trump, campaigned and won election to become the President of the United States of America. Why should Ghana not go for new generation of politicians should NPP fail rather than going back for the "dead goat" and his ilk?

Let former President Mahama understand that it is so far so good with President Nana Akufo-Addo. He is seriously on course to stopping the illegal surface mining (galamsey) that he, John Mahama, encouraged to ruin the nation's water bodies, virgin forests and farmlands. Does he know the importance of water, air and arable fertile lands to the sustenance of human life on earth? He is saving Ghana and Ghanaians from painful death which might have occurred through the devastation of our water bodies, lands and pollution of the country's air through uncontrollably illegal surface mining.

More grease to the elbows of the President for his farsightedness in this direction. He has again implemented the free Senior High School education as he promised. Despite the challenges the education policy is facing, we shall find solutions to them with the passage of time. He is a thinker and a doer unlike John Mahama who has personally claimed that he had never been able to think for himself since his infancy.

Has former President Mahama not said that the idea of President Nana Addo stopping the galamsey is ill-thought? This is a person that some irresponsible Ghanaians want to help him come back to rule Ghana. I am now going to cease doing many things to concentrate on writing my memoire and I hope he had better get a copy when all goes well. I shall not rest on my oars to see this dead goat come back to stink badly to pollute the air to cause us to always pinch our nose.
Finally, teachers and nurses are getting their allowances that he, Mahama, abrogated, paid!

Former President Mahama has invited us to seize his hotel and money concealed in Dubai if we think he has any such things. May I take this opportunity to pray to Father Almighty God, the Omniscient, Omnipotent and Omnipresent, to cause his mighty angels to locate and reveal for confiscation any pesewa that former President Mahama and his family have stolen from Ghana and Ghanaians to hide anywhere in the world. Amen

Mr Dead Goat, you shall never come back despite the numerous false prophecies in your favour as pronounced by the teeming false prophets in Ghana. Even God may decide not to see you come back in an event of Nana Akufo-Addo failing to heed His advice of some sort. He will pardon him and let him continue to have favour in His sight because like King David, he will acknowledge his mistake and go before God in prayers for forgiveness of sins.. Amen