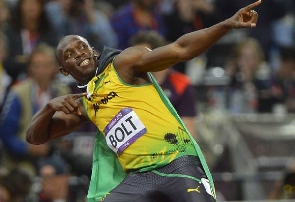 Usain Bolt, the Jamaican athlete, is the three-time world record holder for 100m, 200m and the 4×100m events. He ran 9.6 seconds at the 2012 London Olympics.
Now retired, he still holds the undisputable record of attracting lovers to the track and field game. He always ran the last lap in his team's relay squad, and that's victory assured.

Personally, Usain Bolt employed all the best sports psychologists and coaches in addition to the national coaches when he was competing.

Before a competition, the coaches and the psychologists take time and turns to counsel and motivate him so he is adequately prepared for the race.

Yet, none of the professional advice motivates Bolt more than the bragging of his opponents.

In an interview with the media, Usain Bolt said, "moments like this motivate me than any other. Before a competition and I listen to Justin Gatling (American Athlete) saying to his fans that 'I'll beat Bolt and bring the gold medal back home.' That alone motivates me. I will allow them to talk, then I hit the gym to train harder" (sic).
The moral lesson we picked from the paraphrased statement of arguably the greatest ever athlete in the world is that 'let your competitors do the talking, you keep on training. Master your craft, hone and polish your talent, your performance will silence them. It pays to work harder.'

During his career, Usain Bolt did not only make millions of dollars and got decorated with gold medals, but he also made friends with superstars the world over. Celebrities and the greatest in society, including Cristiano Ronaldo, Neymar and President Barack Obama, have been spotted doing the trademark "To Di World" arrow sign Usain Bolt show when celebrating a win in a race.

He aims his both arms up in the sky, as do the archers when they are flinging the arrow from the bow.

As a Blackman, Usain Bolt is a big inspiration to all coloured people, African children, the youth, and even the aged alike to aspire to greatness despite numerous challenges. From grass, a poor boy from the slums of Jamaica rose to grace. Poverty couldn't hold back the God-given talent of Usain Bolt.

My native Goka people say: mmodemmɔ bu mnusuo abam. To wit: Even under a spell, cursed with poverty, hard work can make one wealthy.