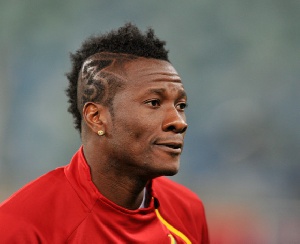 Asamoah Gyan in his prime was one of the greatest footballers Ghana has seen. The numbers are there to support this statement. Yes, I know he missed an important penalty but he scored many significant goals.
So, let's not argue about his place among legends of Ghana football. And, let's not wait till he's dead before we build him a statue.

Even when we agree to build him a statue, I suppose he'll have to foot the bill since Ghana has no money to even pay debts they owe the former national team coach - a debt they should have paid a long time ago but disgracefully refuse to honor. I hope CK Akunnor is not treated the way the GFA and the Ministry of Sports is treating Appiah when they fall out of love with him too.

Back to Gyan and his statue. I suppose he'll need permission from someone if he decides to build himself a statue. I will not be surprised if he has thought about the idea of building himself a statue to honor himself considering how ungrateful Ghanaians tend to be towards the living. Gyan will probably be willing to pay for statues of three other legends to stand next to him somewhere at the Accra Sports Stadium. I will suggest CK Gyamfi, Abedi Pele and Alhaji Grusah. If you don't think Alhaji Grusah deserves a statue, please replace his name with your choice of a Ghanaian football legend and read on.

For all practical reasons, Gyan is at the tail end of his career and this will be a fitting honor. I hope Ghana's minister of sports, tourism, works and housing and whoever else needs to be involved get together and honor this young man. A statue will be ideal but at the minimum, name a major road after him.

Speaking of roads, what do you think about a person naming a road after him or herself if he or she pays to fix the road?
Asamoah Gyan recently paid to fix the road leading up to his home and shared videos of the gesture on social media. Even though he did not provide a tarred road, he fixed a major road that had dangerous valleys in and around it. A commendable feat.

With this being an election year, I am quite sure the Member of Parliament for the area will get that road tarred in order to get votes from the people. And if that were to happen, will Asamoah Gyan still get to put his name on it?

Gyan may not have asked for his name on the street he paid for but common decency will suggest that the street be named after him. I have no idea what the street is currently named. Even if it's named after someone else, a switch could be made in an orderly manner.

Gyan can afford to put a statue in his house but that's an honor fitting for gutter-to-gutter legend. Gyan, on the other hand, is Ghana's all-time goal scorer and one of the finest footballers. I'm sure he's thought about the idea of a statue of himself but knows how violently Ghanaians will chew into him if he goes ahead with it.

I have an idea. Maybe Gyan can float the idea of statues to the football-loving Nana Addo, who some referred to as the Black Stars' general coach following his involvement to get Gyan to rejoin the national team for the last AFCON. In an election year, politicians are often very receptive to populist ideas like honoring sports legends. Gyan could pay for it and then Nana could take credit for it.
Maybe Gyan plans to completely tar the road he fixed with gravel. Maybe the road will someday be named after him just because he's a famous resident of that community. Maybe the assemblyman has already petitioned the Accra Metropolitan Assembly to get the process underway.

While we wait for an answer on that, I'm wondering what if any Ghanaian can fix a dilapidated 5-mile stretch of road and name it after him or herself. Additionally, I'm wondering - forget wondering - I am asking if a statue for Gyan is too much to ask.

This is something to think about.