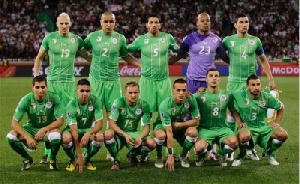 Sat, 9 Sep 2017 Source: Maher Mezahi
On Tuesday, Algeria's 1-0 home defeat by Zambia meant the North Africans could no longer qualify for next year's World Cup in Russia.
At the 2014 tournament in Brazil, Algeria were one of two African teams to reach the knock-out stage, taking eventual champions Germany to extra-time before losing in the second round.

Algerian journalist Maher Mezahi charts the Desert Foxes' unwanted slide:

The last time Algeria lost an official match at home prior to Tuesday's lacklustre display against Zambia, was when a slick Guinean side ran away with a 2-0 win in Algiers and led to a tense atmosphere in the stadium.

It was June 2007 and the hosts had failed to qualify for the following year's Africa Cup of Nations (a tournament the Algerians won in 1990).

Fearing physical reprisal from angry mobs outside the Stade du 5 Juillet stadium, Algeria's players remained in the dressing room for hours after the match.

On Tuesday evening in Constantine however, there was neither anger nor fear - just an overwhelming urge to understand.

"We should not lie to ourselves, even if we had won against Zambia, the Algerian national team is sick and football in this country is sick," declared Algeria Football Federation (Faf) president Kheireddine Zetchi.

Algeria Football Federation president Kheireddine Zetchi Algeria Football Federation president Kheireddine Zetchi says the national team is 'sick'
"That's why we are asking the public to give us time. We need to rebuild on strong foundations."

World Cup joy

Since Algeria seduced the footballing planet at the 2014 World Cup, receiving widespread plaudits for their displays against both South Korea and Germany, the North Africans have been considered a powerhouse on the African continent.

After years in the doldrums, as the country recovered from the dark years of civil war and terrorism that had decimated the 1990s, Algeria was seemingly back on track - having also qualified for the 2010 World Cup in South Africa.

After Brazil 2014, coach Vahid Halilhodzic left and the Bosnian's work was continued by his successor Christian Gourcuff.

Yet if Halilhodzic had wanted to be pilot, first officer and air traffic controller, Gourcuff was very much a player's coach - empowering his stars and giving them the confidence necessary to perform.

His attacking 4-4-2 harnessed the exceptional talents of Leicester City's Riyad Mahrez and former BBC African Footballer of the Year Yacine Brahimi, but it also often left Algeria undermanned in midfield and susceptible to counterattacks.

In November 2015, nine months after leading Algeria to only their second Nations Cup quarter-final in a decade, Gourcuff made it known that he wanted to leave - after coming under intense criticism from fans and media over his selection policy.
Rajevac rejected

Despite having two years left on his contract, he resigned the following April - whereupon Algeria's troubles began in earnest.

Faf had several months to find a suitable replacement, before deciding on Milovan Rajevac in June 2016.

Algeria's Sofiane Feghouli says former coach Milovan Rajevac did not seem to know much about his players.

But the Serbian - who had taken Ghana to within a missed penalty of becoming the first African team to reach the World Cup semi-finals - was immediately rejected by an emboldened group of players.

"In his first match against Lesotho, we immediately knew that something was not right," said Sofiane Feghouli in retrospect.

"He did not know the name of the players or their positions."

The Galatasaray winger says concerns increased ahead of a 2018 World Cup qualifier against Cameroon in Blida in October 2016.
"During the Cameroon match we received very little information on the adversary, and we did very little tactical work," added Feghouli.

The game ended 1-1 and is still - ironically - the sole point Algeria has picked up in Group B.

Nonetheless, two days later, Rajevac resigned and his swift exit was poorly received by supporters who believed it had come as a result of player power.

The same fans were equally unimpressed when a team boasting Mahrez, Brahimi, Islam Slimani, Faouzi Ghoulam and Nabil Bentaleb crashed out of this year's Nations Cup without winning a match.

The failure demanded change in the federation and Zetchi soon became Faf president after his long-term predecessor Mohamed Raouraoua stepped down.

Looking ahead

In April, the ceramics magnate, who has been lauded for investing in local football, swiftly hired former Granada coach Lucas Alcaraz to replace Belgian George Leekens.

But the Spaniard inherited an unstable national team, a breakdown between players and fans, infighting within Faf and a three-point deficit behind Nigeria's high-flying Super Eagles in World Cup Qualifying.
After this past week's crushing back-to-back losses against Zambia, Alcaraz was heavily criticised yet he remained steadfastly focused on his objectives.

"I was not hired to take this team to the World Cup," he said.

"I know I can achieve the objectives that were assigned to me - that is, qualifying for the 2019 Nations Cup."

But once again, Zetchi hinted that the country's managerial roundabout may go on despite his desire for a "policy of continuity."

"We can't change coaches every time the national team loses," he said.

"We will have a meeting with the coach and ask him why we lost these matches. If he has the cure, we'll continue. If he doesn't have the solutions, then we can go back on our decision."

Yet again, a trap has seemingly been laid for the Desert Foxes and their ambitions.
Source: Maher Mezahi