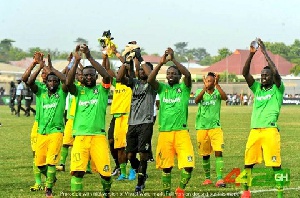 For once, Aduana could play a Caf inter-club match with a simple and plain objective. And that goal is not to win as you may be thinking.
On Wednesday, the Fire Boys take on Moroccan giants Raja Casablanca away at Stade Mohammed V on the final matchday of the Confederation Cup group stage. It is a game the Ghanaians would have many things thrown at them – bullets, missiles, bombs, just name them. For the hosts, currently second in Group A, must win to secure a place in the quarter-finals of the competition - that's if they don't want their qualification to be based on some help from already-qualified AS Vita of Congo, who face third-placed Asec Mimosas of Cote d'Ivoire in the other group fixture.

While the second and third-placed teams fight for their lives, Aduana's fight is expected to be over something that doesn't really matter at this point. One win, one draw and three defeats, including last week's surprising 2-0 home loss to Asec, have condemned the Ghanaian champions to the bottom of the group, with absolutely no chance of making the knock-out stage.

For most clubs in a similar situation, the goal will be to win despite not really needing to do so. They call it "finishing with pride".

Kenichi Yatsuhashi's sides' form on the road, though, seems to suggest that asking for victory may be – realistically - asking for too much. Their situation could even worsened by Raja's dire need of the points. And the story of how snatching a win from North Africa in a continental inter-club game is as difficult as anything is still yet to be fully understood.
In Africa this season, Aduana suffered a 1-0 loss to Libyan club Al Tahaddy in their Champions League opener before being blown apart by a ruthless ES Setif of Algeria, who scored four unanswered goals to force the Ghanaians into the Confederation Cup. Even against the least fancied Fosa Juniors of Madagascar, Kenichi Yatsuhashi's side fell on a 2-1 score in the playoffs. And in the group stage, attempts to exorcise their away devils ended in 1-0 and 2-0 reversals to Asec and Vita respectively. Raja, meanwhile, hit Asec for four in their last home game. Scary!

But football doesn't always follow the scripts. That they have come all the way to the group stage, that they kept their chances of making the last eight alive until the penultimate matchday – all on their first attempt at Caf Confederation Cup glory - is enough motivation for Aduana to know that the boundaries can always be pushed.

But for once, let's indulge the Fire Boys.

Demanding a win may not necessarily be the kindest ask right now. A bit insensitive. For once, they ought to enjoy a privilege they have long be denied, party on a stage they fought sweat and blood to reach, and bask in the glory of how far they have come. Just this one time, they should be allowed to do as they please.